Why Google's Stock Just Plummeted
A rare misstep combined with worse-than-expected quarterly numbers to send investors into a panic.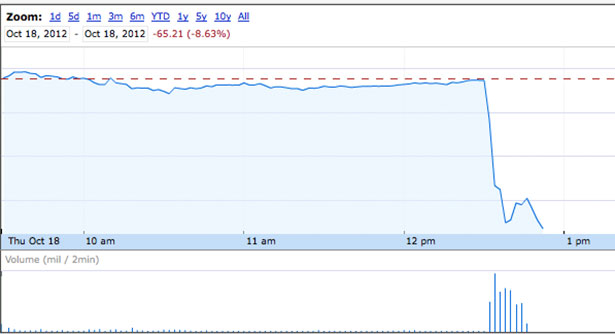 If you're on Twitter or watching the stock market, it's been a very interesting past half an hour. Google's stock hit the skids, falling to its lowest level in more than a month in the span of just about 10 minutes. What happened?
What's truly astonishing to me, as a non-investor, is the speed at which the market incorporates the new information. At 12:30pm Eastern, right before the news broke, one Google share cost $754.60. Two minutes later, the price was $736.91. And by 12:34pm, the shares were down to $706.78. That's tens of billions of dollars in market cap erased in the span of a few minutes.
Now, expect to see a lot of stories trying to answer the question financial advisor and blogger 
Josh Brown posed
, "Which meme will catch hold: $GOOG miss means $FB screwed this quarter OR Facebook is kicking Google's ass?"