Um, What's That Bright, Shiny Thing Curiosity Just Found on Mars?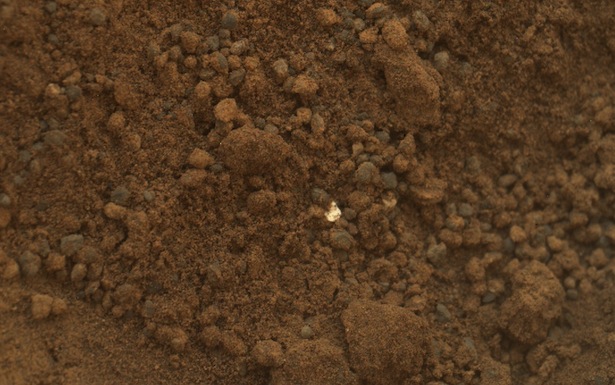 The official name of the latest rover we've sent to Mars is not Curiosity. It's Mars Science Laboratory. And one of the mobile lab's primary jobs -- besides photography and interplanetary telegraphy and being, generally, spunky -- is to do the very scientific job of assessing the soil on Mars. Curiosity has made its mission mainly to see what Mars is made of (and how its soil varies, and whether that soil could have once supported life).
Curiosity, having settled into life on Mars, has now begun the geological analysis aspect of its mission. Earlier this week, the rover took three small scoops of soil from a patch of dusty sand known as "Rocknest." It then sieved the sample to rid the dust of excess rocks. On Wednesday, finally, Curiosity fed a tiny bit of that sample -- a baby aspirin-sized bit -- into the inlet of its Chemistry and Mineralogy (CheMin) instrument. The CheMin will now use X-ray diffraction -- a mineral identification method never before employed on Mars -- to analyze the samples. (You can watch more about that process in the NASA-produced video here.)
One mystery the CheMin will (fingers crossed!) be solving: What, exactly, is the bright-white object Curiosity revealed as it scooped up samples of brownish-red sand? NASA scientists at first were concerned that the shiny anomaly might be a part of Curiosity itself, a bit of earthly material that dislodged as the rover has bumped its way across the rocky Martian landscape. (A couple weeks ago, those same scientists confirmed that another mysterious, shiny object was in fact a bit of plastic that had come loose from Curiosity's body.) But NASA has now confirmed that the mystery object is, indeed, all-Martian.
Which makes you wonder: Um, what is it?