The Sandy Storm Surge: Is This What Climate Change Will Look Like?
Sandy caused sea levels in parts of the city to rise 13 feet. Climate change scientists say sea levels in New York and elsewhere may rise the same amount by 2200.
From what we know at this point, it looks like Sandy caused a storm surge of up to 13 feet in some parts of New York City, like the tip of Manhattan. That's like two basketball players' worth of extra water. There isn't yet a good and precise map of exactly which parts of the city were submerged, but to get a visual idea of what has probably flooded -- a lot of it confirmed by news reports -- we can look at Google.org's New York City map. The parts in purple were given a 100% chance of seeing a storm surge of at least 6 feet. As we know, a lot of these areas saw a a surge more than double that: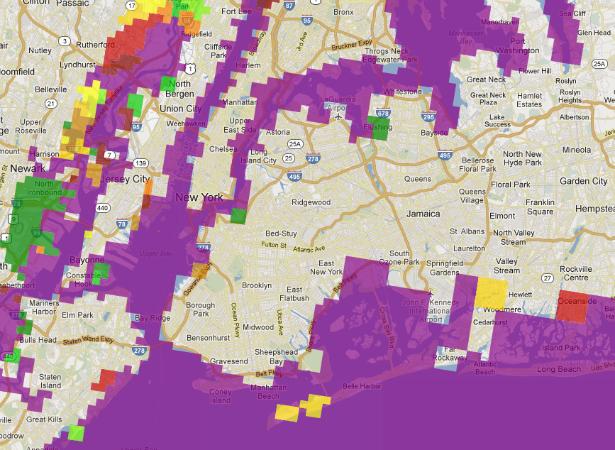 Google.org
Here's the link, if you want a closer look. (Check the "storm surge probability" box in the lower-right-hand corner to see the predicted flooding.) Basically, predicted by the map and confirmed by reports: the Wall Street area of Lower Manhattan, flooded; Midtown East and parts of the Upper East Side, just starting to flood; substantial chunks of West and South Brooklyn, including Coney Island, flooded. Parts of the Rockaways and Staten Island, same deal.
Scary, right? Well, what if the flooding were here to stay?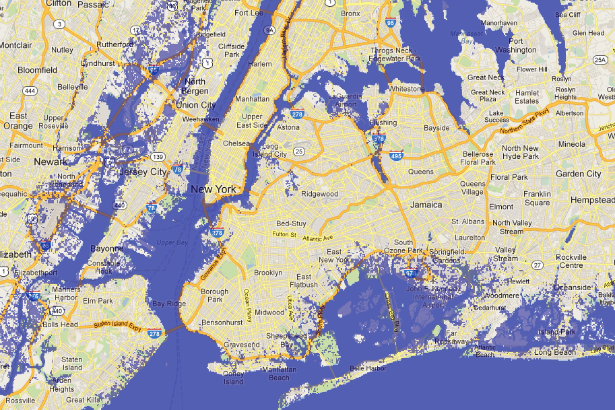 Alex Tingle
Above is an image taken from a model, made with NASA data, showing how a six-foot rise in sea level (actually, two meters, which is a touch over 6 feet) would affect New York City. (This model was featured in MoMA's 2008 exhibition Design and the Elastic Mind. For a closer look, click here.) At current rates, one EPA projection has global sea level rising that much by 2100. Think that's bad? Here's what the New York City region will look like with a 13-foot rise in sea level (a.k.a. the size of the surge we saw around Lower Manhattan). Scientists say this is possible as early as 2200: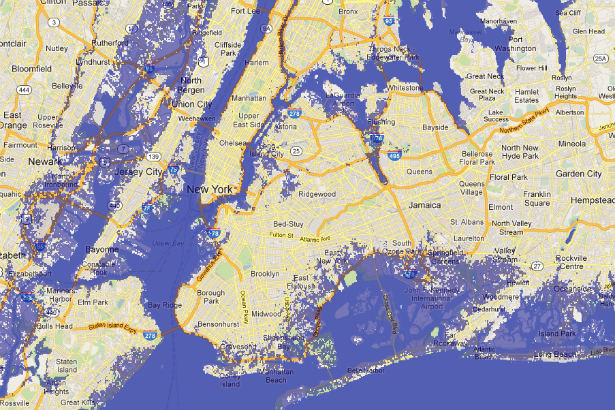 Alex Tingle
Yes, there is a difference between storm surge -- which means more violent and therefore more extensive flooding -- and sea level rise. Sea level rise creeps along much more gradually over time; a thirteen-foot rise in sea level would occur over a period of decades, giving New Yorkers years rather than days to adapt to and prepare for the change. But as the flooding we saw during Sandy suggests, it would be a huge change. A thirteen-foot rise in sea level might over time render uninhabitable many of the parts of New York City we've seen flooded during Sandy. (It's also worth noting that rising sea levels will make storm surges worse. In other words, the Sandies of the future will be more destructive because of climate change.)
A lot of people are going to be arguing over the next few days about whether climate change "caused" or contributed to Hurricane Sandy. It's hard to prove anything definite either way, since diffuse factors impact hurricanes. But even if Sandy wasn't "caused" by climate change, the hurricane does give a concrete illustration of one consequence of climate change. It may be far off, but scientists see it coming.
Here's a model that shows how New York City floods during a hurricane. The storm surge in this model is what you could expect to see in a Category 2 hurricane -- a 4.7 meter surge. So bear in mind, that's 0.7 meters (2.2 feet) more than what we've actually seen during Sandy (via Christopher Mims):
Applied Science Associates/Smart Planet