The Robot That Could Help People Walk Again
Today Matt Tillford walked across the stage at The Atlantic's Big Science Summit. So what? Tillford has been paralyzed since a 2007 car crash.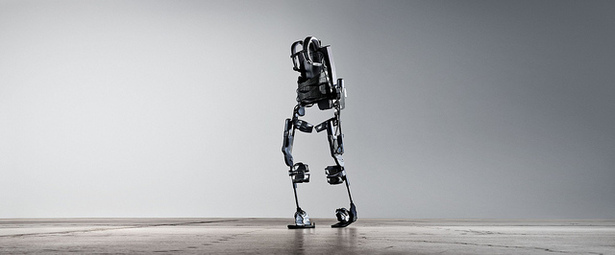 Ekso Bionics/Flickr
Matt Tilford is standing on stage at The Atlantic's Big Science Summit in San Jose, California, wearing a shiny black backpack and braces that extend down his legs. "Every time I get in it, I ask to take it home," explains Tilford. The reason: He shouldn't be standing at all. A car crash in 2007 permanently wiped out his ability to walk.
But today he's standing next to Russ Angold, co-founder and chief technology officer of Ekso Bionics, whose company is responsible for the equipment that has Tilford standing again. Tilford's's backpack and braces are actually part of a sleek-looking exoskeleton that helps him walk from his chair to center stage.
Leg braces, of course, have been around for ages, but what makes this frame unique is that it's actually a smartly designed robot, predicting when Tilford would like to take his next step and moving one leg and then another forward.
The device, which Tilford began using at a physical therapy center about a year ago, can be nudged into action in three ways. At first, a patient's first step could be triggered by a physical therapist. But with time, users can signal they'd like to start walking via a button on the crutch, or, as they get used to it, by simply leaning forward.
Angold sees that his company's robotic support system can help patients whose conditions go beyond spinal injuries. Those suffering from multiple sclerosis and cerebral palsy, for instance, could similarly use the reinforcement. There might also be uses in recreation. With people living longer, 75-year-olds that want to go backpacking could actually "bring the kitchen sink," says Angold, with Ekso's support.
But the technology is still new, and there is still a lot of room for improvement. Battery life continues to be a big issue. Right now Tilford can walk for about three hours before the frame that makes it possible needs a recharge. And something like climbing stairs is still not possible. For now though, these first strides have made a big difference. "I've seen a more exciting life," says Tilford.