The Internet Museum of Oddity Records
While hunting for information on an obscure type of DIY records, I stumbled across a DIY site that's a perfect example of the early Internet ethos.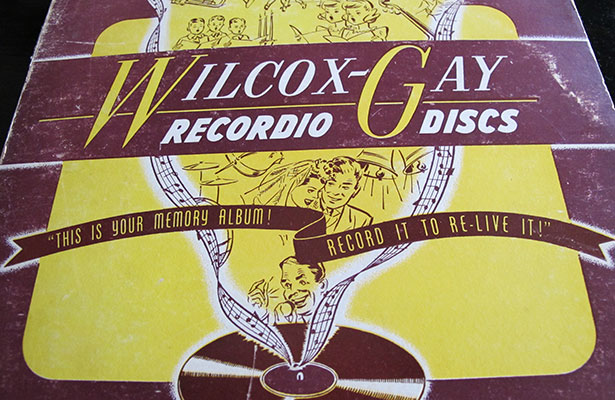 I've recently become obsessed with an odd kind of old record, Wilcox Gay Recordio disks. The company sold record-it-yourself machines that allowed people to cut one-off records from the comfort of their ranch homes. Many people recorded themselves singing, but others recorded letters that they sent to their loved ones. The first few discs I picked up were a mixture of Christian hymns ("Onward Christian Soldier") and a relatively pedestrian description of a 1941 trip from Indianapolis through Muncie and on to Ohio. I've embedded the latter below, but you'll really have to crank up the volume to hear much. (I've done my best with the de-noising but this is a metal disk from 1941 and it's not in great shape.)
In any case, I've started trying to hunt down more of these records -- and more information about the class of records -- because they each provide a little peek into the day-to-day world of the past. And while looking for that information, I stumbled upon an digital relic,
The Internet Museum of Flexi/Cardboard/Oddity Records
, assembled by Michael Cumella, a collector of truly obscure records, who is also a DJ at WFMU. Here's the site's introduction, formatting intact:
Once bound by cereal boxes, held in the pages of a magazine, wrapped up in envelopes sent through our postal system or given away casually with some product, these bits of paper and plastic yearned to be set free to fulfill their destiny as...
PLAYABLE RECORDS
Come and take an aural and visual journey through a partial history of these strange but true recorded anomolies.
Who knew that there were so many oddity records out there? And thanks to the Internet and Cumella's hard work, you can actually listen to them from the comfort of *your* ranch home. 
The museum was built, from the looks of it, around 2000 and it's the kind of passion-filled site that people used to create before the web's more commercial side took over. This is not a Tumblr full of recycled GIFs. This is a networked archive of someone's offline passion overflowing onto the web. As Verge writer Tim Carmody put it one time, "The Internet is best when it's not just made of other Internet," and this old-school site exemplifies that ethos.