The Best Nature Photographs of the Year, Including This Too-Human Monkey Portrait
This is not your average Tumblr full of cute animal pics. Prepare for the sublime.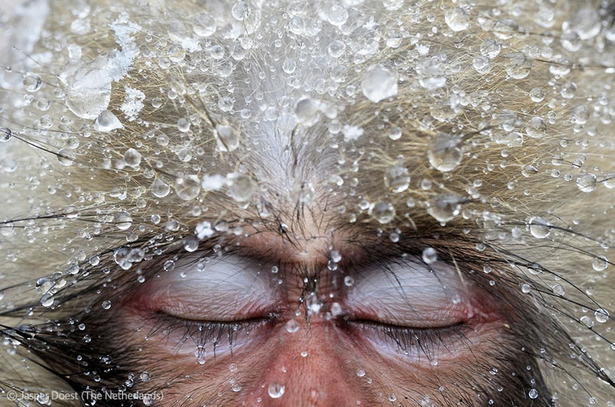 There are animal photos and there are animal photos. While I'm a fan of Instagrams of cats and dogs, the images in the Veolia Environment Wildlife Photographer of the Year show at the Natural History Museum in London are no mere social-media fodder.
Here we see a Japanese macaques in repose. A Dutch photographer, Jasper Doest, visited the hot springs of Jigokudani Valley in central Japan, and found about 30 monkeys soaking in the warm water. This one fell asleep right in front of him.
'The warm water has a very relaxing effect on the monkeys, and most of them were asleep.' He watched with delight as this youngster became increasingly drowsy and eventually closed its eyes.
The eyelashes! The bridge of the nose! I know that we have to be careful about projecting human emotions onto non-humans, but... who doesn't recognize this as Hot Tub Face? Doerst named the photograph, "Relaxation."
There are dozens of other delightful images of animals of all kinds. I'll include just two more here, but the microsite at the Natural History Museum is full of them (albeit with some janky gallery navigation).
The first is dark, nearly sinister, almost ruin porn. Finnish photographer Kai Fagerström captured a squirrel in an abandoned cottage in Finland. Check out that reflection. Ghostly! (Also: memeable.)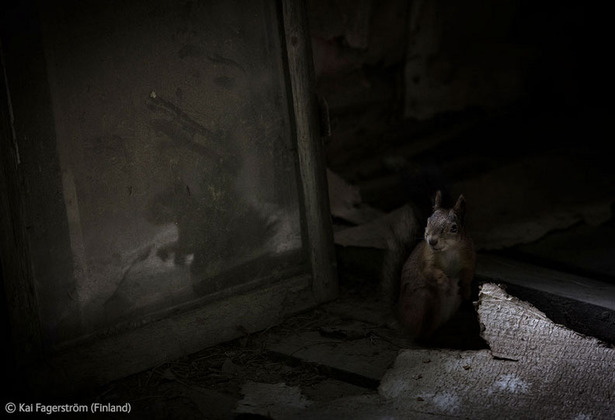 And finally, I leave you with pure delight. A fox in Yellowstone leaping high to pounce on unsuspecting earthbound prey.