The Automation of Our Skies: How Computers Could Resolve Flight Delays
Instead of having humans manually adjust flight schedules and routes, we should design weather-data fueled software do the task.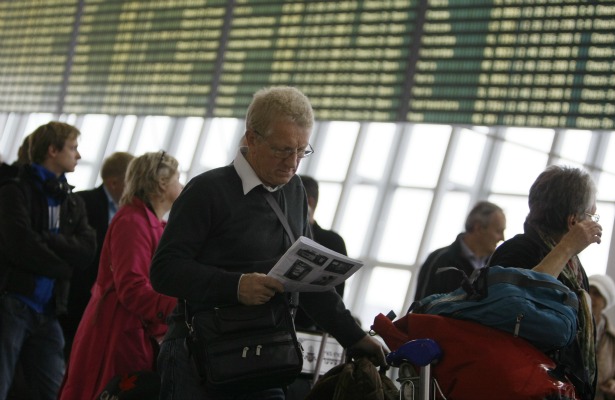 Reuters
Three-quarters of flight delays are due to weather. While we can't convince SFO's fog to burn off according to our schedules, there most certainly is a better way to plan around it. At The Atlantic's Big Science Summit in San Jose, California, Parimal Kopardekar, the principal investigator at NASA's NextGen Airspace Project, explained that by pulling data -- weather forecasts, ground-based forecasts, readings from sensors placed outside planes -- a model could be created to predict the best course of action for any particular flight.
With enough information, says Kopardekar, the system could see "automation that detects and resolves conflicts." A computer could figure out, for instance, whether it would be faster to wait for ten minutes on the tarmac for a storm to pass or take off immediately and make a slight detour in the air. That kind of data-based decision making could work not just for departures, but for arrivals, too, so a flight from New York to San Francisco could be timed to arrive right as the Bay Area's fog clears.
Our current system of conflict resolution is highly manual. Sorting through every scenario and deciding upon the right one for each arriving or departing flight butts up against the edges of human limits.
Automation would reduce the workload. Automation would make the air-traffic control system more efficient, ideally increasing profits for a struggling airline industry. For travelers, it might mean fewer headaches.
The problem is implementation. As Kopardekar explained the idea, he shared the stage with Allan Leinwand, former CTO at Zynga, and Jim Zemlin, the executive director of the Linux Foundation. They offered their advice.
Both suggested an open process. "As you start to build the technology, make the cloud and infrastructure as transparent as possible," said Leinwand. If airlines would work together to implement the new technologies, the whole industry could see the benefit. Best to battle the clouds -- the real ones -- together.