In the Last 3 Months, the Word 'Faggot' Has Been Tweeted 2.6 Million Times
A new website draws attention to the homophobia people casually drop on Twitter, every second of every minute of every day.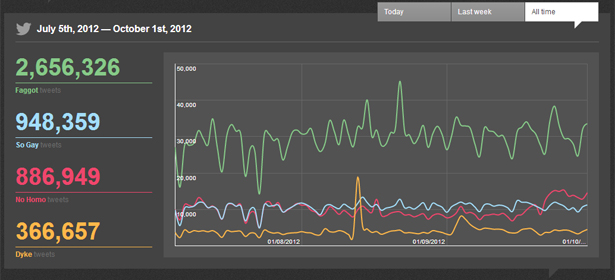 The world can be a pretty hateful place, but much of the time, people keep it to themselves, using slurs in the privacy of their living rooms, "among friends." On Twitter, people chatter casually as they would in more closed settings, but they do not actually enjoy the privacy they imagine. Twitter's API lays out their words, and with the right set of tools, we can see into those living rooms and listen in on all that ugliness that normally goes unheard.
A new website, launched last week, is just that sort of tool. In real time, NoHomophobes.com monitors homophobic language on Twitter -- specifically the terms "faggot," "so gay," "no homo," and "dyke" -- and the results, rendered in all their infographic-style glory, are, well, let's put it this way: They don't make you feel awesome about the world.
As you can see in the graphic above, the word "faggot" alone has been tweeted more than 2.6 million times since July 5. The site's interactive chart lets you look at different timeframes and compare the various terms. But that's just the EKG of the bigotry. Below it is where you can really see the homophobia: a constantly scrolling stream of tweets containing all those terms, pulled in via the API, such as this gem, randomly selected from the hundreds and hundreds that have poured down the page as I wrote this piece: "i don't know why but i think it looks so gay when guys drink star bucks lol". Yeah. Hahaha. Lol.
"We believe that the use of homophobic language remains one of the few remaining socially acceptable forms of discrimination in our society," Kris Wells, the University of Alberta professor behind the project, explained to me via email. Wells says that the team designed the site to serve as a "social mirror" in which we can see the prejudice that surrounds us. So come, look in, and consider the effects of those words, as they are here on Twitter and as they surely also are just about everywhere else, if only we could see.