In Praise of the BlackBerry
Why the New York Times is wrong to dismiss BlackBerry users as "uncool" and "embarrassing."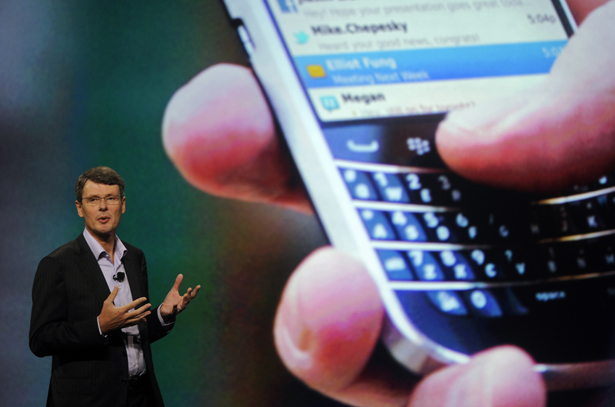 Reuters
The day had finally arrived: My two-year cell phone contract was up, and I could finally ditch my BlackBerry. It also happened to coincide with the release of the Samsung Galaxy S II, the first Android that reviewers said could compete with the iPhone. I gleefully took the plunge. Like those ashamed BlackBerry users profiled in yesterday's New York Times, I was sick of the "mockery and derision" directed at the last remaining holdouts, and was excited for all the possibilities of my new Android.
Two months later, I switched back to my BlackBerry.
The primary reason I went back is the physical keyboard. I always had trouble using a touchpad to type when I would borrow friends' iPhones or Androids, but foolishly believed their assurances that "It gets easier" and "You'll get used to it in a few days." It didn't.
On my BlackBerry, I could easily write entire articles (which I often had to do on the road as a Middle East correspondent). On my Samsung, I struggled to write a standard email. I found myself waiting until I got back home to my laptop to type anything that was more than a sentence or two. Downloading a SWYPE keyboard (which is weirdly lacking on iPhones) improved things significantly, but I still had to pause in between each word, which made typing on a touchpad remain an awkward and frustrating experience.
The other dealbreaker for me is the horrible battery life. On my BlackBerry, I could go two days without recharging. On my Samsung, I was lucky to get to dinner without a recharge -- and on busy days, I often needed to recharge twice. (I hear similar complaints from honest iPhone users.) And I was not a heavy user, most days averaging a few short phone calls and a few emails. I resorted to carrying both a charger and a spare battery around with me. This is not acceptable for a smartphone in 2012.  I don't care how fancy a phone is -- if it can't make it through the day without a recharge, it's not worth it.
A related complaint is that, while Android does have a setting for "push email" -- meaning that emails get delivered to my phone in real time, rather than checking for new emails every few minutes -- it is a huge battery drain. One of the main reasons I have a smartphone is so that I can get emails immediately. I shouldn't have to choose between push email and battery life.
One of the vaunted advantages of Androids is that the open-source software allows develops to correct flaws or weak programming in the system. For example, I hated that my Android played a loud jingle whenever it booted up -- so thankfully I found an app that disabled the sound for that.
But there is not an app for everything. I could not find an app to turn off the sound when I shut down, or get rid of the boot up animation altogether. Yes, you can always "root" your phone (an operation that seems to crack open the entire operating system to hacking), which seems to vastly increase the number of ways you can tweak your phone. But it is pretty complicated to do for an average user like me, and also invalidates the phone's warranty.
There are other minor annoyances that, independently, would be tolerable, but do add up to considerable limitations. For example, the alarm clock does not work if the phone is off. I turn my phone off at night, so that made the alarm clock useless. (In the interim before I switched back to my BlackBerry, I actually used my BlackBerry as alarm clock for this reason.) And no, I couldn't find an app for that.
I also found the lack of external LED light to be surprisingly inconvenient. I had to turn on my screen every time I wanted to see if I had an email -- as opposed to the BlackBerry, that has a red blinking light I could see from the top of my pocket. I did find an app that simulated this feature by making colored squares appear on the screen whenever I had an email or a text message. But that was far less useful than the BlackBerry light -- and, yet again, became such a battery drain that I had to disable it.
Another key feature of the BlackBerry for me is the international data plan, which I have yet to find for any other smart phone. T-Mobile offers a $20/month add-on for unlimited emails overseas, only for BlackBerries, which is a lifesaver for someone who travels as much as I do. With my Android, I was stuck paying criminally expensive roaming charges for even minimal international email usage. For a while, I would use my Android at home and move my SIM card to my BlackBerry for when I traveled; after one such trip, I was too busy to switch back to my Android -- and after a few days, realized that I didn't even want to.
The saving grace of the Android is supposed to be the apps. That was what compelled me to stick with my Android for as long as I did. But when I looked through all my Android apps, I realized that almost all the ones I used with any frequency (such as Pandora, Our Groceries, Zipcar, Google Maps, and Twitter) all had BlackBerry versions -- and for some, the BlackBerry  version were even better (such as the NextBus app).
To be sure, some BlackBerry apps are pretty weak (like Evernote, which doesn't allow you to edit notes, only view them). And some of my most used apps don't exist for BlackBerry (like Pocket, Instagram, or a Car2Go locator). But the majority of those apps I downloaded on my Android I have barely used more than once or twice.
With all that said, the decline of BlackBerry will become a self-fulfilling prophesy. As more users flock to iPhones and Androids, fewer new apps will become available on the BlackBerry. Eventually, the gap in availability will become a significant drawback for the BlackBerry. When that time comes, I will reluctantly dust off the Galaxy S II sitting on my shelf (not to mention the extra batteries and travel charger). But until then, I will remain a proudly uncool BlackBerry user.