I Have Seen the Future of the 'Geek Dad' Movement, and It Is Called the Megapram
Meet the world's fastest stroller.
This is a video of a guy who has decked out his newborn baby's stroller with an engine. The stroller has four gears. And cupholders. And it reaches maximum speeds of 50 mph.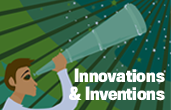 Notes and Dispatches from the Frontiers of Creativity
See full coverage
The stroller is the work of Colin Furze: plumber, builder, and best dad ever.  Furze built his engine-powered stroller to break a Guiness world record for, yep, "fastest pushcar in the world." He was told that the record-breaking speed would be 30 mph -- a speed his stroller-coaster easily surpasses.
The vehicle is not really meant for a kid. ("It is really unstable when it goes at top speed and if you hit a rough bit in the road you are in danger of falling off," Furze tells the Daily Mail, "but so far I've managed not to crash.") What it's meant for, intriguingly, is a dad. What's wonderful about the mega-stroller is the message that it sends about parenting: basically, that a "pram" doesn't have to be prim. It can be fun. It can be edgy. It can be totally, unapologetically geeky.
And that's a great message to send because baby tech, in general, has been optimized for women. Diaper bags often feature floral designs. Burping cloths tend toward the pastel. The aesthetic assumption of most infant-care devices is that even the things that could be done by either parent will be done, ultimately, by women. Products' appearance subtly tells men, "Sorry, guys, this is not for you."
And that is both problematic and easily remedied. By simply creating products that appeal more explicitly to men -- or that don't explicitly exclude them -- companies could help foster more balanced parenting dynamics. The Megapram itself is, of course (and alas), mostly a joke. But it sports a nice little insight: Parenting can be manly. Parenting can be adventurous. Parenting can have four gears and a motorbike engine and the ability to speed down the road at 50 mph.
Via Laughing Squid.