New evidence solves an old mystery about the origins of Earth's largest satellite.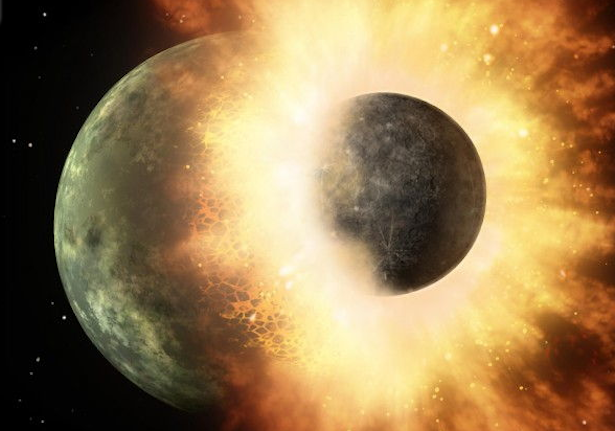 How did the moon become the moon? The most dominant theory, the Giant Impact Theory, has held that the moon resulted  from a cosmic collision: When Earth was still proto-Earth, a body called Theia (named for Greek mythology's mother of the moon Selene) collided with it. The resulting impact released so much energy that it vaporized Theia and much of the mantle of Earth -- and the matter that remained resulted in the beautiful but barren body that has shaped so much of what it means to be human.
The impact theory, first suggested by George Darwin in 1898 and reintroduced in 1974, gained traction in part because computer simulations demonstrated that a giant collision of the kind it described could have created a Earth-Moon system with the kind of orbital dynamics we have today. But the theory has, all this time, been just that: a theory -- a likely explanation, but with little physical evidence to back it up. 
Today, though, the theory has gotten one step closer to validation. A team at Washington University in St. Louis has uncovered evidence, to be published in the journal Nature, that our little moon is indeed the result of a long-ago galactic cataclysm. Their findings solve mysteries that scientists have been puzzling over for more than 30 years.