From 'Malarkey' to 'Laughing': The Google Searches of the V.P. Debate
When we have big events like presidential debates and awards shows and sports championships, it's more and more common to watch those events with a second screen -- a computer, a smartphone -- at the ready. Which means, among other things, that as Americans watched Joe Biden and Paul Ryan take swipes at each other last night, many of them did their watching with their Google search bars at their fingertips.
Which means in turn that Google was able to assess citizens' debate-related searches in, effectively, real time. Which means in turn that we have some interesting data today. Below are Google's debate-related search trends for last night. And the results are ... revealing.
Here, first of all, are the most common rising search terms from the debate, reflecting the period between 8:45pm and 10:45pm EDT: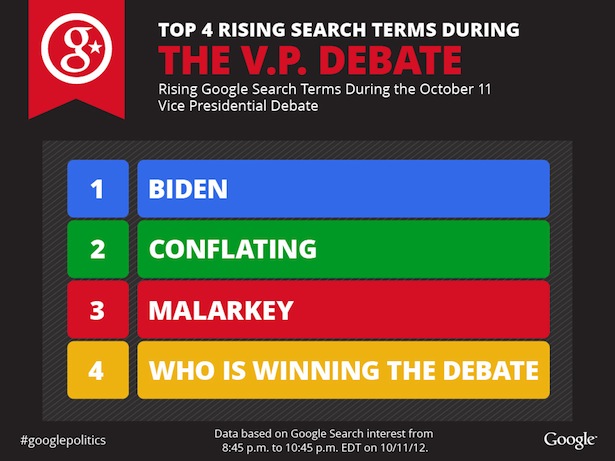 What's especially interesting here is that Paul Ryan -- the relative newcomer, the debate participant who has not been Vice President of the United States for the past three-plus years -- is not on the list. Instead, it's Biden -- the familiar participant, and the one most pundits deemed to be the winner of the debate -- who's the most-searched-for. And the next two most-common searches fit into one of Google's most straightforward search-term categories: word definitions.
But it's the fourth-most-common term here -- the "who is winning the debate" -- that's probably the most revealing. Debates' impact is largely about consensus: who won, who lost, who created a new story in the public mind. In that sense, "who is winning," the collective question from our collective consciousness, reveals our desire for tidiness -- for conclusiveness -- in our political narratives.
To complicate things just a bit, though, Google has also broken down the most common search terms by candidate -- in this case from 9pm to 10:30pm EDT -- revealing more of the contextual questions swirling around the debate participants last night: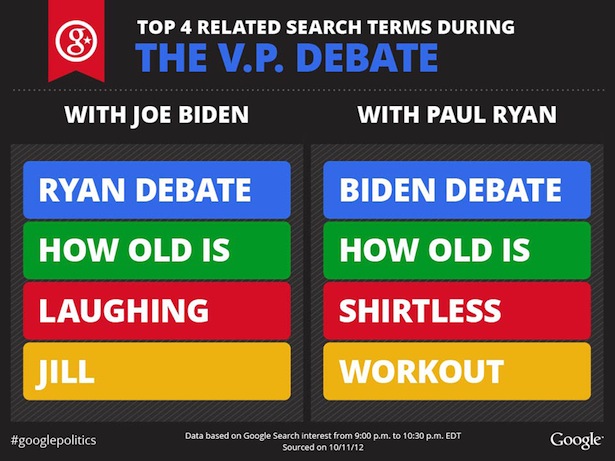 People wanted to know: What was the deal with Biden's constant laughter? And what's the deal with Biden's wife? And what about Paul Ryan's famous workout? And even more importantly: How old are these guys, anyway?