From 'Ad Hoc' to 'Ad,' in 90 Seconds
A political action committee snaps up bindersfullofwomen.com.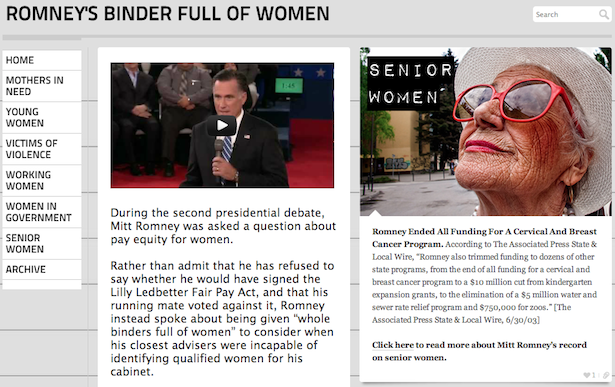 BindersFullofWomen.com
Bad news, guys: If you were in the market to buy BindersFullofWomen.com, that domain is no longer available for purchase. Last night, approximately 90 seconds after Romney made his meme-making gaffe during the presidential debate, the newly-valuable URL was purchased by American Bridge, a Democratic political action committee. The George Soros-backed PAC, which boasts a war chest of $10.7 million, laid down $49.95 for the domain.
This outcome was both predictable and revealing. Predictable, because the campaigns -- and the many satellites that spin in their orbit -- now have infrastructures in place to capitalize on whatever memes might emerge from presidential debates' relatively improvisational exchanges. American Bridge, last night, was ready to pounce. "We bought it because we could tell it would be a memorable moment from the debate," Chris Harris, the PAC's communications director, told CNN of the URL snap-up. "We were sort of on standby, knowing that Internet memes like this can solidify within seconds."
And that is also revealing, because -- in 90 seconds, for $49.95 -- the spontaneous response to the debate was instantly reclaimed by an institutional one. While the BindersFullofWomen Tumblr, not to mention the Twitter feeds @RomneysBinder and @Romneys_Binder, are alive and well, the dot.com version of the meme has gone pretty much fully official. The newly claimed website now features a Tumblr-powered collection of Democrat-friendly policy papers: Romney's policies toward young women, Romney's policies toward working women, Romney's policies toward senior women. The site is now slick and unapologetically political and unapologetically lacking in the of-the-Internet sensibility that the defines a meme in its more organic state. The cheekiness and sloppiness of the BindersFullofWomen Tumblr has been transformed, here, into yet another outlet for the publication of political literature. The cheeky has been claimed by the savvy.
The whole cycle is pretty amazing, especially when you consider how long it took to play out. "Binders full of women" went from gaffe to meme to campaign ad, in 90 seconds flat.