Before Sexting, There Was Polaroid
The arrival of instant film meant the end of snooping photo-lab technicians—which, in turn, homemade porn for everyone.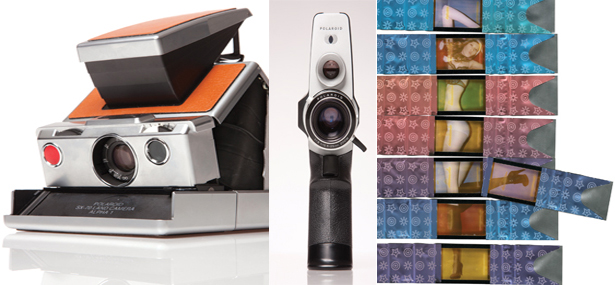 Princeton Architectural Press / Danny Kim; Steven Monteau
In 1970, Polaroid founder Edwin Land stood in a factory and proclaimed that in the future, the still camera would be like the telephone. As a crew of cinematographers rolled their tapes, he explained candidly that one day the camera would be "something you use all day long... [something] you would use as often as your pencil or your eyeglasses." Land's dream was for photography to be a shared experience, as well as an action as simple as taking a wallet out of a pocket and tapping a button.
Land essentially prophesied the much-later arrival of the camera phone, as New York magazine editor Christopher Bonanos points out in his new book Instant: The Story of Polaroid. So Land's dream was realized--only not, sadly, in his lifetime.
But just because Land didn't successfully deliver cell-phone photography doesn't mean he didn't usher in a magnificent new era for instant, shareable nudie pics--and Polaroid nudes didn't put photographers or subjects "one tap away" from accidentally sharing their intimate moments with the Internet. In this excerpt from Instant, Bonanos explains how the newfound privacy that came with being able to develop pictures without the help of a photo-lab technician was liberating, sometimes incriminating, and often pretty delightful--for artists, photographers, and scores of playful amateurs at home.
---
We will never know exactly who first figured out that using a Polaroid camera meant whatever happened in front of the lens never needed to be seen by a lab technician. It is clear, though, that it happened early on. There are plenty of naughty first-generation Polaroid photos out there to confirm that instant photography's success was at least in part built on adult fun. At the time, "camera club" sessions were a popular fad: afternoons with a hired nude model, allowing amateur shutterbugs a few hours to indulge their artsy-prurient sides. Bettie Page, the 1950s pinup, got her start in these places, and pornography historian Joseph Slade has noted even frontal nudity in her Polaroid photos from these sessions. The Kinsey Institute has many such Polaroid pictures on file, too. By the 1960s, ads were appearing in certain magazines for a woman who would pose for nude Polaroid snapshots for a price.
MORE ON DESIGN
Did Polaroid itself know? Of course. Donald Dery, Polaroid's longtime director of corporate communications, puts it this way: "We didn't acknowledge it, but we always talked about 'intimacy.'" Sam Yanes, who succeeded him in the job, offers a little more detail: "There was a subject-photographer relationship that didn't exist with a regular camera . . . an intimacy, and we felt it was one of our main features. I never saw any research that said X percent of sales went for bedroom pictures, though."
The attraction lingered long past that relatively repressive early era. Woody Allen's scandalous relationship with his not-quite stepdaughter, Soon-Yi Previn, was revealed to the world in 1992 when her mother, Mia Farrow, spotted a stack of nudie Polaroid photos on his mantelpiece. In Russia, between the end of Soviet repression and the arrival of the Internet, Polaroid pornography was huge. It's not clear exactly how much film was destined for X-rated work, but for a couple of those years, Russia accounted for 10 percent of Polaroid's worldwide film sales.
The privacy of Polaroid photography also opened up what artists could do. Consider the work of Robert Mapplethorpe, who as a young artist in the late 1960s worked mostly in collage. He first acquired a Polaroid pack film camera with the idea of integrating its pictures into those collages, but he quickly began to appreciate the photos themselves. Although he was deeply involved with (and constantly photographing) his partner Patti Smith, his photos were often homoerotic, and grew more so over the years, as he figured out his sexual identity and embraced it, both in life and with a camera. If he'd sent some of those pictures of leathermen and naked boys out to a lab, even one that was accustomed to printing artists' nudes, he'd probably have been arrested. Working with a Polaroid camera as he did, everything stayed in his studio until he was ready to show it--and until, in the mid-1970s, the world (or at least part of it) was willing to see this work as art rather than smut. Though Mapplethorpe eventually switched to shooting mostly conventional film, his Polaroid work is extensive enough, and compelling enough, to have had its own retrospective at the Whitney Museum of American Art in 2008.
Of course, Polaroid was not above dropping a coded hint, now and then, and in 1965 it rolled out a product whose name telegraphed libidinous fun. Color film, introduced two years earlier, had been a hit, so much so that the black-and-white factories were idling. The solution was a genuinely inexpensive camera, one that took only black-and-white pictures. The buzzword of the era was "youthquake"; baby-boom teenagers were becoming a real consumer group, with different tastes from those of their parents, and the new camera was pointed squarely at them. The design (by Henry Dreyfuss) was groovy: mod white plastic with a silver-and-black bezel. It was lightweight, meant to dangle from the wrist on a lanyard, and Polaroid got the retail price down below twenty bucks. It was nearly idiot-proof: The camera's viewfinder lit up with the word YES when it saw enough light to take a photo.
Phyllis Robinson came up with the name. As she recalled in an interview at the Paley Center for Media in 2006, Land had picked up the camera during a meeting in Cambridge, and "this very dignified man slipped the strap onto his wrist, and walked up and down his office swinging it. And I thought, oh my god: the Swinger." It was perfect for the moment, suggesting youth, movement, dancing, play, lightheartedness. For kids in the midst of the sexual revolution, "swinging" meant something that went entirely over their parents' heads. "The most spontaneous camera in the world," read the instruction manual. You bet.
This post is excerpted from Christopher Bonanos' forthcoming Instant: The Story of Polaroid.