A Newly Constructed Movie of Earthrise From the Apollo 11 Orbiter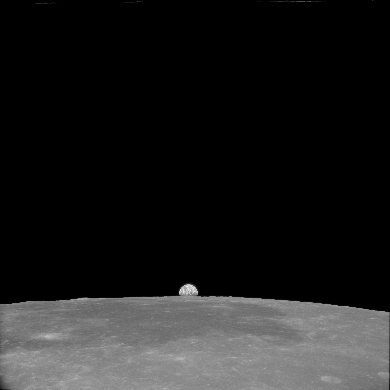 I love NASA nerds. They tirelessly mine our nation's space history looking for forgotten stories, adding to databases, correcting metadata. And sometimes, they encounter a string of images from a flight that was 43 years ago and reconstruct them into a beautiful new movie.
Leonard Richardson stumbled across a series of shots that Michael Collins (The Other Guy on the Apollo 11 mission) took at decently regular intervals. Richardson realized he could transform the images -- which are archived at a spectacular old-school NASA History site -- into a short movie. The GIF you see at the right is the most dramatic moment from this resurrection of the footage.
Also, fascinatingly, someone else posted a (less well-made) version of the same series of images a month ago, which Richardson stumbled upon while working on his own movie. Enjoy these convergent nerd outs!
Via @robdubbin