What the Space Program Meant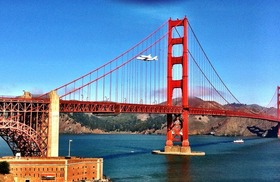 On Friday
I mentioned
some of the excitement across California as the space shuttle Endeavor and its 747 mother ship made low-pass fly-bys in various parts of the state. Here is
how it looked
from San Francisco.
A woman who works in tech research sends in this message, with emphasis added:

I was about half a mile from where that video was taken (Shoreline Park in Mountain View) and the place was packed.  People had taken their kids and there were tons of people there wearing badges from local tech companies (and riding their very colorful bikes). 

I was with a group of people who took off the morning from the National Labs in Livermore to drive out to MV to see it pass over.  It was truly amazing to see and it was also great to see so many people turn out to say farewell to an important part of our nation's story.

Later that day it flew over several spots in LA, including SpaceX.  [A friend] works there and he said the entire company was in the parking lot, watching it fly over.  I thought it was a fitting "passing of the torch" for the space shuttle to fly over America's next ride to the ISS [International Space Station]. 

The space shuttle program is why so many of us in my generation are engineers and scientists; I wanted to be a mission specialist on the space shuttle for the majority of my
childhood, as did so many of my friends and colleagues.  Now an aerospace engineer, I'm really proud to be part of a continuing tradition of technical excellence in the US.  It warmed my heart to see that people still appreciate that.

We're in a jaded-seeming, beset national mood at the moment. But, seriously, I think that some public leader, some time, will recognize the technological, emotional, and even spiritual payoff in setting our sights on goals as ambitious as those of the space program. Maybe Newt is not going to be the guy, but I admire him for trying.