Vladimir Putin's (Motorized Hang Glider) Flight Into the Anthropocene
The action man plans to lead cranes along part of the way on their migratory route.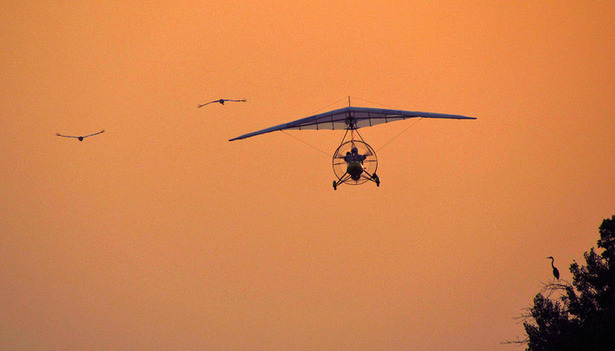 Vladimir Putin is reportedly going to fly a motorized hang glider dressed in a crane-like costume to help the endangered birds find their migratory way. The birds are born in captivity and need help learning where to fly.
You may recall Vladimir Putin, Action Man, has performed many stunts, sometimes shirtless. But this is the first time, to my knowledge, that he's participated in one of the stranger rituals of the Anthropocene, our human-driven geological age.
The phenomenon of leading cranes on migration began several years ago, as detailed in one of my very favorite magazine stories of all time. Jon Mooallem followed the ultralight pilots of Operation Migration as they led a batch of whooping cranes across Kentucky dressed in outfits "that looked like a cross between a beekeeping suit and a Ku Klux Klan get-up." Here's how he explains why this is such a significant and symbolic effort:
Operation Migration exemplifies the kind of ingenious, unwavering work that needs to be done -- and that we'll need to keep doing, maybe forever, even as the strenuous administrative challenge of micromanaging so much of the natural world begins to blur the line between conservation and domestication. Already, it has come to this on planet Earth: men dressed like birds, teaching birds to fly.
The news reports I've seen do not go into much detail about how real the effort that Putin will be participating in actually is, or how he'll be costumed, or where the birds were reared. But it's just worth noting that it's certainly possible Putin will be part of a legitimate operation, and that on the scale of the globe, anyone doing this is more bizarre than Putin doing anything else, and Putin doing this is certainly the most bizarre of all.