These Students Love Startups Like the Animal House Guys Loved Beer
These are kids who probably first heard Start Me Up on a Microsoft commercial.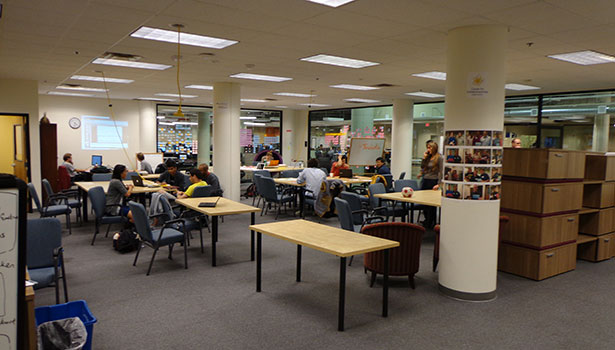 The second I started to mill around TechArb, the University of Michigan's student start-up accelerator, I was approached by three students who were the very picture of youthful energy. Nancy Xiao, Shiva Kilaru, and Mitch Adler are all involved with various start-up promotion schemes on campus, from Startup Weekend Ann Arbor to MPowered, a student entrepreneurship organization; to a career fair they created for local startups to find talent at the university. They talk in lock-step. They know the successful University of Michigan grads (Dick Costolo*, Larry Page). And they say things like, "We're not the next Silicon Valley. We're Detroit. We're Ann Arbor. We've got something special." (That was Xiao talking, but all three agreed on the basic principle.
Xiao's even gotten former University of Michigan and NFL football player Dhani Jones to help her buy a house on campus for student entrepreneurs. "It's going to be like General Assembly gone crazy," Xiao says.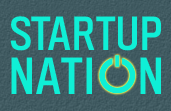 Ideas and entrepreneurs from Chicago to Pittsburgh
Check out the whole road trip
What I couldn't help thinking, while talking to these brilliant students, was how deeply start-up culture has penetrated general culture. The idea that building a business is something exciting and rewarding rather than a way to pay the bills is startling. "You ever been to a U of M football game?" Kilaru asks me. "That's the energy we bring to entrepreneurship."
I mean, I'm not even in Generation X and I find it easy to be cynical about this kind of excitement for putting one's shoulder to the capitalist wheel. At the same time, their excitement is infectious. I spent the rest of my time at TechArb excitedly talking with students about the companies they're trying to build and before I knew it, two hours had gone by and I was still not quite ready to leave. These are kids who probably first heard "Start Me Up" on a Microsoft commercial. You say you want a revolution? Well, you know, we all want to change the world.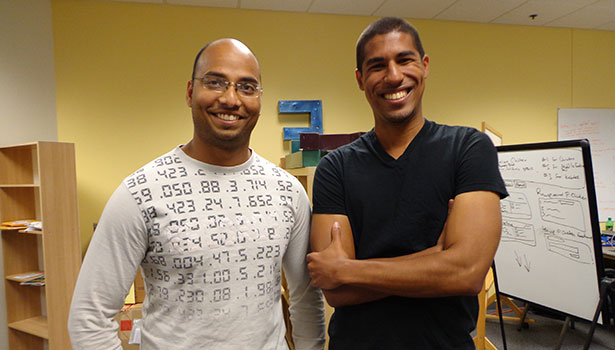 Meet Ricardo Rodriguez and Shamik Ganguly, the co-founders of YouTrivia, a game now in alpha testing that uses YouTube videos as fodder for a trivia game. Apparently there's a market, as a music-only Facebook trivia game called Songpop has already reached 24 million unique users. Stay tuned for more from these two.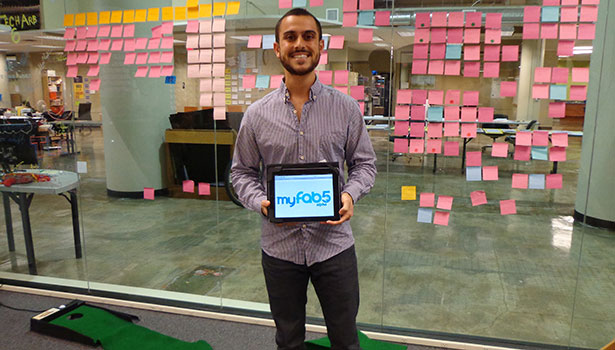 This is Omeid Seirafi-Pour, founder of MyFab5, which is trying to solve some of the problems with local restaurant reviews that Yelp introduced through its success. Yelp, Seirafi-Pour contends (and I agree) has become "a platform for complaining." So, his company lets users rank their five favorite things in any given restaurant category. So, five favorite dessert places for ice cream, five favorite pizza places for deep dish pizza, five favorite Mexican places for tacos al pastor, etc. It's faster, he says, and provides more structured data to reveal interesting things about local restaurant scenes. MyFab5 is about to launch locally in Ann Arbor and begin looking for investment.
I also spoke with Grace Hsia, CEO of Warmilu, which is attempting to commercialize heating blankets for infants who are born preterm. Infant hypothermia, she told me, kills thousands of infants each year, particularly in places within the developing world that lack access to electricity. Hsia herself was born preterm and is passionate about her cause and business. She's a student in a new one-year master's degree in entrepreneurship that's a collaboration between University of Michigan's engineering and business schools.
* In a previous version of this story written quite late at night, perhaps while listening to Elvis Costello, I typo'd Twitter CEO Dick Costolo's name as Dick Costello. Sorry, Mr. Costolo, though I'd still like to hear you sing, "Welcome to the Working Week."