The founder of the web checks in on his creation, with mixed results.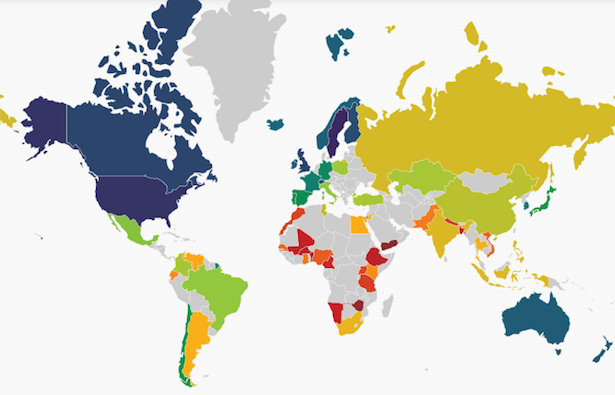 World Wide Web Foundation
Tim Berners-Lee's vision for the World Wide Web was predicated on two core ideas: universality and connectivity. But now that the web has been around for a generation -- and, you know, changed the world, revolutionized information, etc., etc. -- how has it actually been adopted? Is the web, its obvious success notwithstanding, ultimately living up to its vision and its potential?
Berners-Lee has now answered those questions -- and he's done so with, appropriately, troves of data. This morning, his World Wide Web Foundation released its first-ever Web Index, charting web penetration and adoption on a country-by country basis.
The abbreviated chart below encompasses five years' worth of global web usage. It tracks and ranks, among other factors: Web Readiness, or the quality and extent both of connectivity to the web and of policies regulating web access; Web Use, including both the percentage of individuals who use the Internet and the content available to them once they make that use; and the Impact of the Web -- the social, economic and political indicators to evaluate the impact of the web on these dimensions." This includes, the Web Foundation notes, measures of social networks, business Internet use and e-participation.
First of all: Go Sweden. But also: Go U.S. and U.K. and Canada. (And go Iceland, 95 percent of whose population is online.)