The World Wide Web, by the Numbers
The founder of the web checks in on his creation, with mixed results.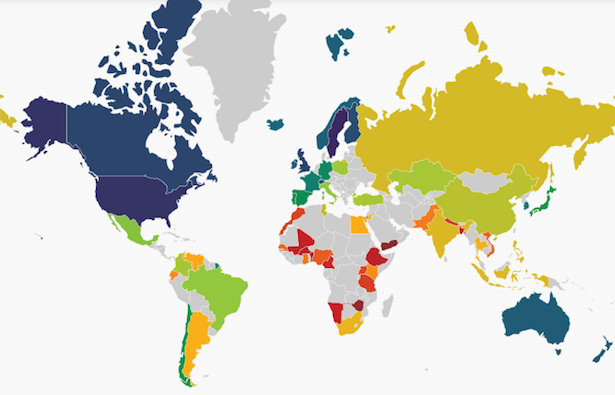 World Wide Web Foundation
Tim Berners-Lee's vision for the World Wide Web was predicated on two core ideas: universality and connectivity. But now that the web has been around for a generation -- and, you know, changed the world, revolutionized information, etc., etc. -- how has it actually been adopted? Is the web, its obvious success notwithstanding, ultimately living up to its vision and its potential?
Berners-Lee has now answered those questions -- and he's done so with, appropriately, troves of data. This morning, his World Wide Web Foundation released its first-ever Web Index, charting web penetration and adoption on a country-by country basis.
The abbreviated chart below encompasses five years' worth of global web usage. It tracks and ranks, among other factors: Web Readiness, or the quality and extent both of connectivity to the web and of policies regulating web access; Web Use, including both the percentage of individuals who use the Internet and the content available to them once they make that use; and the Impact of the Web -- the social, economic and political indicators to evaluate the impact of the web on these dimensions." This includes, the Web Foundation notes, measures of social networks, business Internet use and e-participation.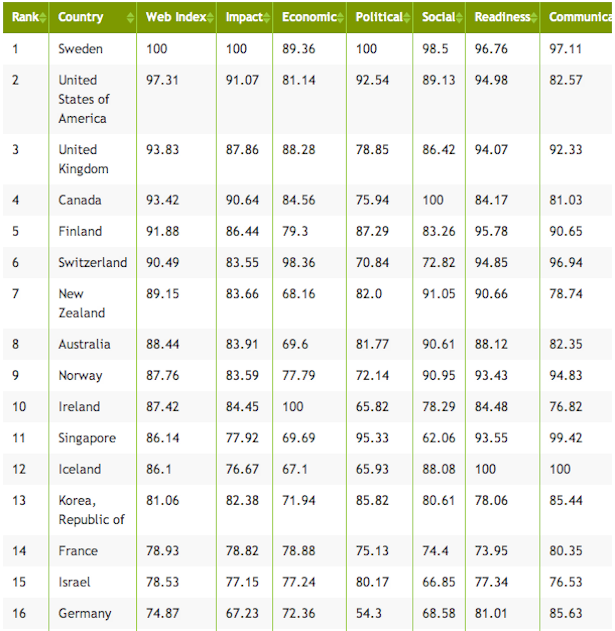 First of all: Go Sweden. But also: Go U.S. and U.K. and Canada. (And go Iceland, 95 percent of whose population is online.)
The report's broader findings are more troubling, though. Only one in three people, the BBC notes in its reading of the report, are using the web globally. And for Africa, the ratio drops to a mere one in six. Furthermore, the report finds, approximately one in three countries face moderate to severe restrictions on web access. So while the economic costs of access are keeping billions of people away from web connectivity, Berners-Lee notes, "growing suppression of free speech, both online and offline, is possibly the single biggest challenge to the future of the web."
Here's that observation in chart form, with countries' ranks broken down by region: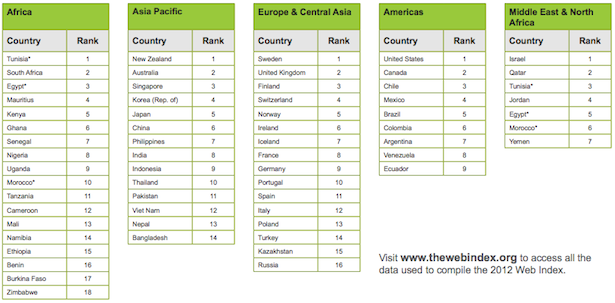 As for other stats (pdf):
Italy is the lowest-ranking Western European country in the overall Index, ranking outside of the top 20 nations. The Middle East and North Africa, as a region, has one of the widest gaps between its best and worst performers, with Israel ranked 15th overall and Yemen ranked at 61st -- the very bottom of the Index.
None of these findings, put together, are terribly shocking -- though Russia's ousting of Kazakhstan for "worst in Europe and Central Asia" qualifies as at least a surprise. What's most striking, however, is the comprehensiveness of the Web Foundation's data, the invitation it offers to compare and contrast and parse and probe.
With that in mind, you can read the full report here.