The Best Craigslist 'Missed Connections' from Burning Man
"You, had a green goatee, and no pants. A cow patterned blazer, No shirt. Sicc tatts."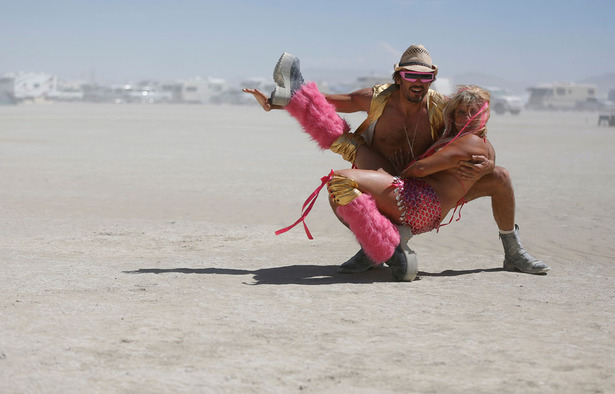 The Playa, home of Burning Man, has a reputation for sex, drugs, and music that bears a conceptual resemblance to rock'n'roll.
But maybe it's also a place where the seed of love can be planted, and then that seed could grow into a sprout over the festival, and then scooped up into a container and driven back to San Francisco in a furry car and transplanted in the fertile soil of the Bay Area.
Or that's the idea behind these amazing Burning Man Missed Connections posted on San Francisco's Craiglist board. People with yellow fuzzy tap dancing shoes looking for fellow travelers with chill vibes.
Burningman EFT workshop - m4w - 41 (tent EFT Burning man)
You are a slender Caucasian girl in EFT session wearing an orange yellow pareo, I was sitting next to you and at the end wanted to talk to you when a friend appeared and I missed the opportunity.
You are on my mind...because I could 'feel' your person and that there was something special.
If you read this could you be so kind to send me a note.
You may of been my true-love-prince! - w4m - 24
I, was wearing purple polka-dotted crotchless panties, yellow fuzzy tap dancing shoes and rainbow knee-high socks with swirly peace signs. On my tits, I had disco pasties. I have sicc multi-colored dreads.

You, had a green goatee, and no pants. A cow patterned blazer, No shirt. Sicc tatts.

I saw you hula'n on the multi-colored flying dragon art-car as I was riding my TIGHT cruzer thru da sicc playa dust.

We made eye-contact and never saw each again! Hope the universe brings us together. Namaste.

P.s. my name is Raven.

p.p.s we saw each other at burning man.
Burning Man - is "Ms. Jackson" Playa-name reading this? - m4w
if you were at Burning Man by the shave-ice (on Sunday) over at 7th&F and if you're reading this "Ms Jackson" (your playa name)-- then you'll know that 3-Dolphins want to talk to you again.
U had such a good vibe.
xo
david/3-dolphins
i ran into some wonderful residents of shadyvil on friday night in front of a warm fire near 2:30 and A.
we scaled the automatic subconscious then you helped take me home.
i wish we had exchanged more information! thank you again for the amazing company <3
~giggles
You: Beautiful blonde, green eyes, with awesome food tattoos
Me: The dude in the blue fedora
Where: The New Easy on Lakeshore
When: 8PM Monday 8/27

We shared a smoke on the back patio, talked about your upcoming trip to Paris, the awesome cocktails we were enjoying, and how Burning Man isn't what it used to be. I wasn't sure at the time if you were 'with' the other gal you were with so I left it alone. My mistake - hoping you'll read this and let me make it right.
Russian devil-girl at Burning Man - mw4w - 42
We met at the "Oh No You Didn't" on Thursday night. Please contact us. Allie and Tom
Via @LauraGlu