Thank God Someone Finally Stepped In and Explained the Internet to Women
Women: Have you been struggling to use a computer? And forget about the Internet -- too hard. Good news: a series of books will help, you just need to speak French.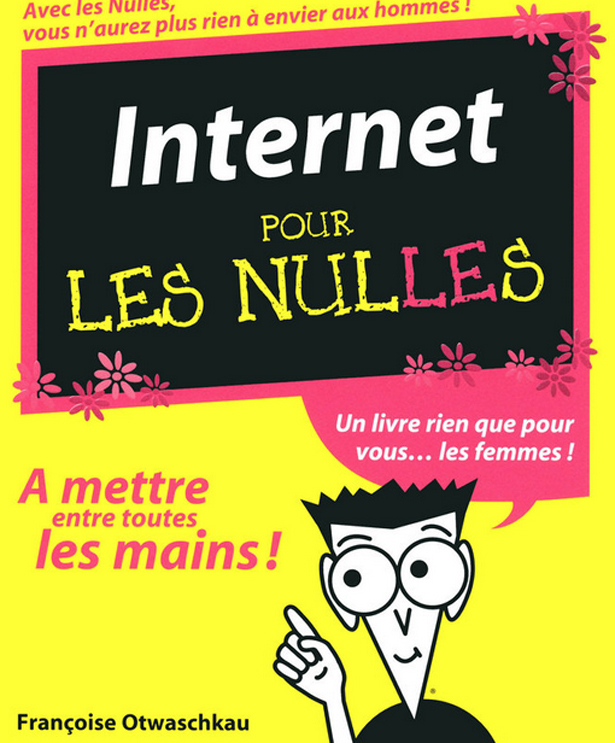 You don't have to remind me: The Internet is hard. Especially for women, who struggle with its dry, technical nature. How is a woman supposed to navigate this foreign terrain of computer hardware, software, and Lord knows what else it is that makes Internet?
Thankfully, if you're a woman and you speak French, a special series of books can help you make sense of this mess: Internet pour les nulles, Le PC pour les nulles, and Le Mac pour les nulles. In case you can't quite grok the subtleties of these French titles, let me explain: "Nul" in French is the equivalent of "dummy" but is for a man. The plural, "nuls," is for any group in which there is at least one man, even if women outnumber him by hundreds. "Nulle," on the other hand, is a female dummy, perhaps what we, in English, would call a bimbo. Thus the above book, Internet pour les nulles -- women dummies. Just women.*
Of course this is a needed thing. Just as the books say at the top, "Avec les Nulles, vous n'aurez plus rien à envier aux hommes!" Or, in English, "With the Dummettes, you will no longer have anything to be jealous of men for!" Nothing! Nothing at all!
The books and these translations came to my attention in the work of Alexander Brown,a student at CERN and the author of a recent awesome rant about sexism in the sciences. Brown, who writes often about being bilingual, helpfully translated the available information about these books (here and here), to both sad and hilarious effect. For example, here is the publisher's info for Le Mac pour les nulles:
Peut-être allez-vous vous demander pourquoi un livre sur le Mac spécialement dédié aux femmes ; un Mac c'est un ordinateur, et quel que soit celle ou celui qui le manipule, il n'y a pas 36 manières de le faire fonctionner. Débarrassé de considérations techniques ennuyeuses, ce livre se concentre sur l'aspect pratique et ludique du Mac. Bien entendu, il faudra passer par l'apprentissage de son système d'exploitation et parvenir à le domestiquer, mais c'est promis, on ne vous donnera que les notions indispensables à votre survie dans «cet univers hostile». Dans la partie consacrée à Internet, nous vous donnons tous les conseils pour commencer à surfer en toute sérénité, communiquer avec tous vos amis par l'intermédiaire des messageries, faire vos achats en toute sécurité, et pourquoi pas, pour les plus audacieuses d'entre vous, créer votre blog pour afficher haut et fort vos convictions sur la toile !
Brown's translation, with his emphasis added:
Perhaps you will ask yourself why there is a book about Macs specifically for women. After all, a Mac is a computer - there aren't a million different ways of going about it, regardless of whether the user is a man or a woman. Free of boring, technical considerations, this book focusses on the practical and fun sides of Macs. Of course, you will have to learn to use the operating system and domesticate it [it's not clear if this referes to the operating system or the Mac]. But we promise to give you only the minimum tools necessary to survive in "this hostile environment". In the chapter about the Internet, we give you all the tips to start surfing with peace of mind, communicate with your friends via messaging services [the original uses "amis", which thankfully acknowledges that women can have male friends], go shopping safely. For the more audacious [feminine form used] amongst you, why not even create your own blog to put your views on show on the web?!
For comparison, Brown checks out the French edition of Le Mac pour les nuls, apparently a translation of David Pogue's English edition.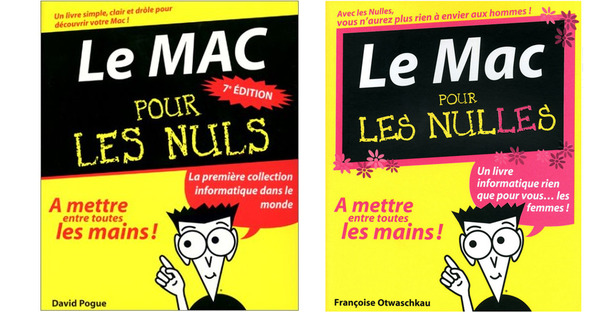 Brown writes:
The caption above the title reads

Un livre simple, clair et drôle pour découvrir votre Mac!

Which means

A simple, clear and funny book to get to know your Mac with!

As for the speech bubble

La première collection informatique dans le monde

Meaning

The number 1 series of computer books in the world
There really is only one correct way for me to express how I feel about this: Le sigh.
* A quick search in the English language "For Dummies" store finds no equivalent to this French innovation. Even books clearly intended for women (e.g. Menopause for Dummies, Second Edition retains the gender-neutral word "dummies."