Pivoting a City: Can Startups Help More Than Themselves?
Pittsburgh has proven fertile soil for new companies, but the startup mentality may meet its match in a real town's legacy problems.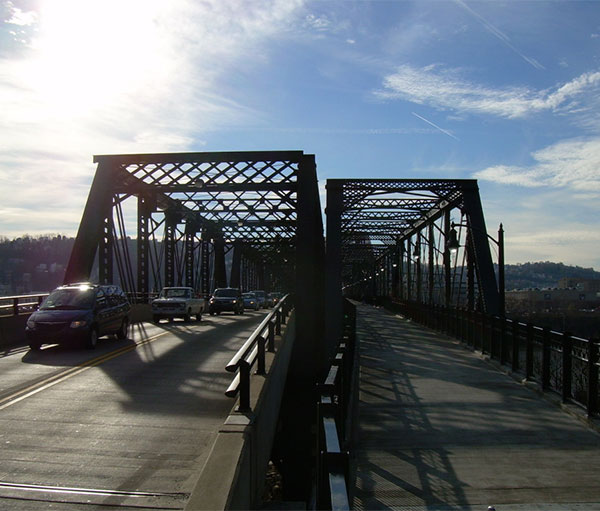 The Hot Metal Bridge (flickr/kordite).
I have a tip for coastal-dwellers traveling to the brick-and-steel cities of the Rust Belt. It is a lame trick, and I am ashamed to admit that I used it. But it is useful and it is my duty as your faithful correspondent in the field to share it with you.
If you find yourself in Pittsburgh, say, on a Saturday morning, and you want to get a quick tour of the neighborhoods in which you might find some interesting things, here's the shortcut: Go to Yelp. Type "hipster coffee" into the search box. Up comes a map of places that other Yelpers have helpfully labeled "hipster," which tends to mean places where dudes in funny t-shirts bring their laptops to work. These are the unofficial co-working spaces of the town.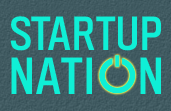 The last stop on a tour of Rust Belt startups.
See full coverage
In a city like Pittsburgh, this data probe also tends to highlight neighborhoods where these people tend to live. This simple search pinpointed the Strip (historic district), Lawrenceville (the New York Times' "go-to destination"), the North Side (home of The Mattress Factory Art Museum), the South Side (the dense home of the accelerator AlphaLab), Squirrel Hill (east of Carnegie Mellon), and Garfield (home to sundry art galleries, Awesome Books, and the Center for PostNatural History).
It's important to note that you don't even have to like hipster coffee to deploy this glowing tracer for MacBook Airs. It is just a sign that where startups go, a very particular kind of culture goes with them. You get fancy coffee from individual coffee plantations. You get an Apple store. You get Belgian beer places. You get vintage shops where you can buy many different things made of teak.
But can start-up culture change a city?
Pittsburgh is a great place to investigate the possibilities of a start-up led urban resurgence because of all the cities between the coast and Chicago, it's the one that's farthest along the path towards techdom. It's got a world-leading research institution that focuses on artificial intelligence. Because the steel mills collapsed so quickly and so thoroughly, its leaders were forced to put together a long-term plan for the city's future. Here's how the New York Times summarized the situation in 2009:
"If people are looking for hope, it's here," said Sabina Deitrick, an urban studies expert at the University of Pittsburgh. "You can have a decent economy over a long period of restructuring."

Pittsburgh's transition has been proceeding for decades in fits and starts, benefiting some areas much more than others. A development plan begun in the 1980s successfully used the local universities to pour state funds into technology research.
And much of this story is real. Pittsburgh is a vibrant, fun place with cool neighborhoods, lots of young people, excellent universities, beautiful housing stock, strong tech companies. It seems like a great place to be an entrepreneur.
But can these entrepreneurs become the backbone of this city? Can they own its problems, not just its advantages?
Startups all over the country tend to be very white. And Pittsburgh, like many other major cities, has even more acute black unemployment problems than it does general ones. Unemployment data isn't broken out by city and race, but nationally, black unemployment was almost twice that of whites in 2011, peaking at 16.7 percent (!) in August, according to the Bureau of Labor Statistics.
So, as long as we're thinking about scale, the biggest challenge facing Pittsburgh isn't how to make a vibrant startup scene (though that's not easy either) but how do you make one whose benefits extend beyond the edges of the start-up bubble?
* * *
I'm outside StartUptown, a 10,000-square-foot co-working facility run by Dale McNutt, who lives here, too. This is ground zero for where Pittsburgh problems meet its new solutions. McNutt's been renovating the place since 2002, and it shows. The brick buildings are now set in a wonderful garden, and the whole place just sparkles with DIY flourishes.
Around me, the streets are mostly deserted. Most of the houses seem occupied, but in poor condition. There are few businesses. Kitty corner from StartUptown, there is a mental health facility and the Jubilee Soup Kitchen.
This area, which McNutt calls Uptown, might fairly be termed the lower reaches of The Hill, which was, in essence, the Harlem of Pittsburgh. The story of The Hill is sad. The community was leveled by an ill-considered redevelopment plan in the 1950s that displaced 8,000 families. It had a "devastating" impact on the community, one from which it still has not recovered.
On the other side of Uptown is the Bluff, where steel mills once lined the banks of the river. There's not a steel mill left in Pittsburgh proper, but the old sites are now home to economic development groups like the Pittsburgh Technology Council and Innovation Works, in addition to companies and university facilities they've helped bring to town. They even named the street running adjacent to the river "Technology Drive."
Downtown is precisely a mile to the west, and Oakland, home of the University of Pittsburgh and Carnegie Mellon, lies a couple miles to the east. The street names around here sound aspirational to an outsider: Forbes runs east, Fifth Avenue runs west.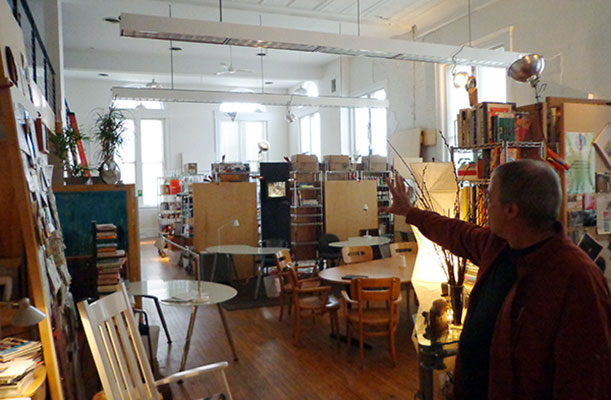 Inside, StartUptown is a cross between a traditional co-working space and something with more soul. The walls are held together by clamps. There's a crazy chandelier made from industrial supplies hanging from the ceiling, which has the punched tin roof of an artisan cocktail place. Southern exposure sends daylight streaming in all day long. And McNutt's poodle will happily nuzzle any passersby.
It would be hard not to like this place or Dale McNutt. He clearly used to be/is an artist at heart -- he knows the sculptors in town and recalls the art program at Carnegie Mellon with appropriate nostalgia -- but now he's taken to tending entrepreneurs. Plenty of people move to rough neighborhoods thinking they're going to fix up a place; only tough optimists like McNutt can manage to stay.
He's arranged for a couple of companies to meet with me. Both companies are growing and interesting.
AllPoint lets you take 3D images and transform them into architectural renderings with its software. "We do really rapid 3D survey and data capture," founder Aaron Morris tells me. "A lot of it is going into digital capture for retrofit design for manufacturing facilities that want to put new equipment in." Morris got a PhD from CMU and worked on "an autonomous robot program that mapped underground spaces with 3D LiDAR."
The other founder I met was Robb Meyer, whose company created the NoWait app, which helps restaurants that don't take reservations to manage their wait times. It's in use at some of the country's hottest restaurants, like David Chang's Momofuku in New York.
They are two very impressive entrepreneurs, as good as I've seen on this trip. We take a quick trip into the basement to meet Harold Lessure, a former CMU physics researcher who has spun out the company Lechtzer to make ultra-sensitive natural gas detectors. His work space is a crazy lab filled with doodads for making stuff and prototypes in various states of assembly. With the boom in natural gas across the United States, it is a good time to be in the methane-detection business, Lessure tells me.
Lessure is just one of many people I met in Pittsburgh who remind you why having a premier research university is so important to a city that wants startups. They can just do and make things that other people can't. They might not hit on something like Google's "backrub" algorithm, but they can make best-in-class products that businesses will want to buy with American dollars, not Klout points.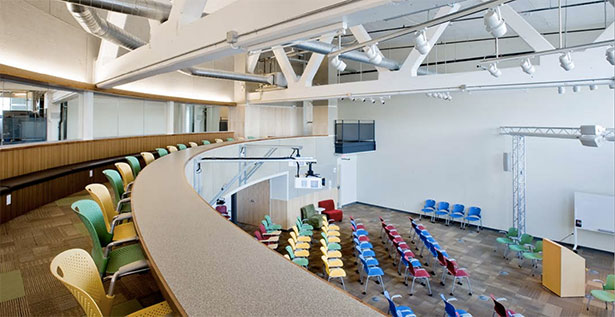 Strada Architects
Our next stop is Google Pittsburgh.
Google obviously isn't a startup. But having Google put down some roots in your city is like having Warren Buffett invest in your company. It's a mark of distinction. It's a mark of value. Not only that, the offices are growing. There are hundreds of Googlers in Pittsburgh now.
The company's offices in Pittsburgh are stone-cold beautiful. Set-up in an old Nabisco factory, the office is actually better looking than the Mountain View buildings. There are bee hives on the roof, and a chicken coop awaiting tenants. There's a trapeze net hanging above a corner of the office that you can have meetings in. (I jumped in. It's harder to walk on a net than it looks.) The cafes and event spaces are nice. As office manager Cathy Serventi and product manager/native Pittsburgher Mike Capsambelis showed us around, you could feel that this office was a proof point that tech was changing Pittsburgh. For the good.
Carolina Pais-Barreto Beyers, a VP at Urban Innovation 21, who is driving me around, wants to make sure that I see the part of the city that has not been transformed, just half a mile away. Her organization has a fascinating mission. They want to connect startup hubs with the broader community. "We want to make sure everybody does well," Beyers told me. They want to find ways for startups to create jobs not just for people with CS degrees from Carnegie Mellon and Stanford, but people who thought they'd work in steel mills, people who didn't finish high school, people who have grown up watching their communities ripped apart by dumb development decisions, drugs, and the decline of the industrial economy.
A half a mile from Google's gorgeous building, just across East Busway, you find corners that look like this.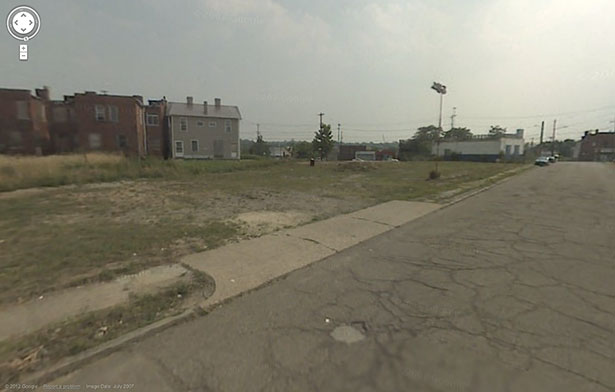 Even in Silicon Valley, the hub of startup activity, you can cross the border from Stanford's home town into East Palo Alto, a community where 96 percent of kids qualify for free or reduced lunches, a measure that indicates the high level of poverty in the community. It's actually hard to find the levels of poverty and misery that you'll find in San Francisco's Tenderloin anywhere else in America. And along the route that many drive, bus, or train from San Francisco to the valley, you can find the homeless camped under the freeway and wandering along its stretches.
Perhaps it is too much to ask of a single industry that it create stability for an entire region. And that's fair. But in city after city, we've found that entrepreneurship has become a central tenet of local economic policy. And yet the literature on how startups can grow a local economy is skimpy. I'm not saying that it doesn't happen, but simply that there aren't a lot of good studies showing precisely how this is all supposed to work.
On the other hand, what else are you going to do? Build arenas? Recruit companies from neighboring regions by promising them huge tax breaks? If there is a proven strategy for lifting large numbers of people out of poverty in an urban area, cities sure don't seem to be deploying it at the scale of the problem.
The main policy vehicle for Urban Innovation 21's work is the Pittsburgh Central Keystone Innovation Zone that surrounds StartupTown and pieces of The Hill and the North Side. They describe it like this:
PCKIZ orchestrates a combination of tax incentives, entrepreneurial resources, educational and internship programs, networking events, and technology showcases. Its goal is to multiply technology and economic development activities, creating economic sustainability and transforming central Pittsburgh into a vibrant community.
This method of development--economic gardening, people call it sometimes--sure seems like a better idea than the ones we've had in the past about how to help underserved populations. But you know what they say about good intentions. 
The one thing you hear over and over from entrepreneurs is that the idea hardly matters. Winning or losing is in the execution, day after day, challenge after challenge. Perhaps there are hundreds of ways to connect ghettos and Google. But who wants to put that effort in when there is no exit, no acquisition, no IPO? The reward is just a thriving, safe, equitable city. And where are the legions who are actually willing to work that hard for the noble, capital-inefficient goal? 
The mentality that dominates startup culture is all about efficiency. Finding better, cheaper, faster ways of doing things. There's nothing lean, though, about providing mental health services or soup kitchens for starving people. I wonder how well such a worldview can deal with the legacy problems of big cities. I think the jury is out. But judging from the sheer magnitude of startup experiments across the whole Rust Belt, we're going to have a lot more data soon. I'm rooting for Pittsburgh to become that model of development. Because if they can't do it, I'm not sure anybody can.