How Low Can You Go: Record Arctic Sea-Ice Melt Continues
Last week, the press was awash with reports of a new sea ice low in the Arctic. The previous low ever recorded was 4.17 million square kilometers of ice, and in late August, the sea ice extent as measured by the National Snow and Ice Data Center, fell to 4.1 million square kilometers.
At the time, there were some questions about
how quickly the sea ice might recover
. We might have hit a new low, but it could just be an early low and in September, things might bounce back. So far, that's not happening. Here's a chart I made of the
most recent data
from the NSIDC: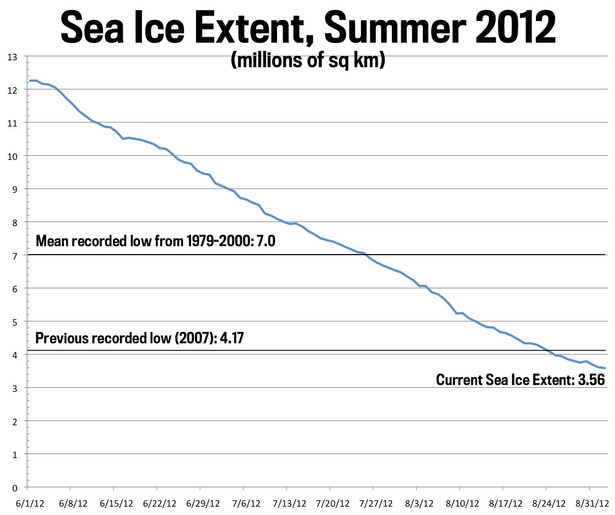 At 3.56 million square kilometers, this new record means that there is roughly half as much ice at this minimum as there was just a few decades ago. For context, here's the way the NSIDC charts it: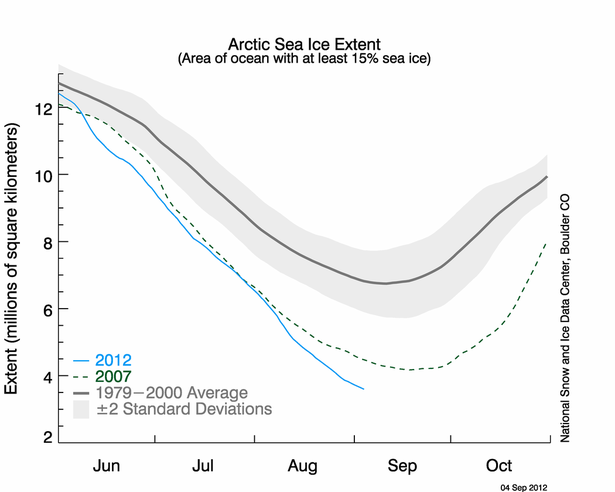 It is worth noting that the NSIDC calculated that there was more sea ice on September 4 than on September 3, so we could be reaching the end of the melt. On the other hand, a similar pause occurred on August 30 before the decline continued.