Geek in Chief: Barack Obama Redecorated the Oval Office With Patent Models
Earlier administrations "had a bunch of plates in there," he tells Vanity Fair, but "I'm not a dish guy."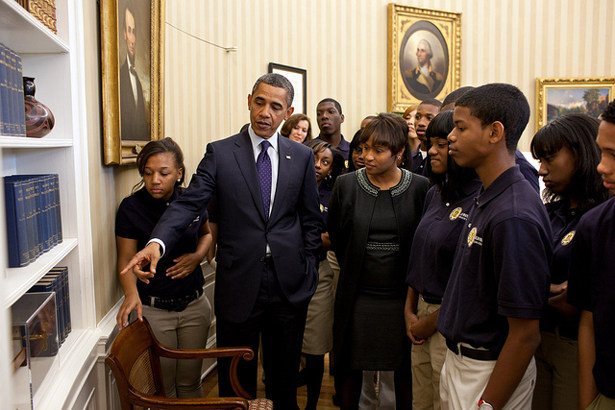 Who doesn't like a bunch of China lining their office's walls?
Barack Obama, for one. As he told Michael Lewis in a new profile in Vanity Fair, earlier administrations "had a bunch of plates in [the Oval Office]." But, he added, "I'm not a dish guy."
Instead, he lined the shelves with original patent models from key American inventions. Pointing at Samuel Morse's1849 telegraph model, he told Lewis, "This is the start of the Internet right here." He also has Henry Williams' 1877 steamboat-wheel design and John A. Peer's 1874 gear-cutting-machine model, according to an article Obama wrote in Smithsonian Magazine in 2010. In that essay, Obama explained why:
They rest on the bookshelves in the Oval Office, and I see them every day. For me, they are a reminder of what has always defined America's people: our spirit; a restless searching for the right solution to any problem; an inclination to dream big dreams, and an insistence on making those dreams come true; an enduring faith, even in the darkest hours, that brighter days lie ahead. That is the genius of America. And that's why, even though I can't predict what will happen over the next 40 years, I am -- and always will be -- full of hope about what the future holds.
Of course, Mr. President, if you want to be serious about your patent love, you'll need to take a card from our own Geek in Chief here at The Atlantic, Alexis Madrigal, and get inked: