Clay Shirky on How the Internet Will (One Day) Transform Government
Why we should both temper -- and embrace -- our optimism about the digital world
Clay Shirky is one of the most prominent and well-respected thinkers there is when it comes to the political impact of digital media. This summer, he gave a talk at the TEDGlobal conference in Edinburgh -- subject: how the Internet will (one day) change government -- and the video of that session has now been posted.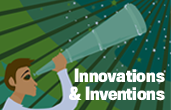 Notes and Dispatches from the Frontiers of Creativity
See full coverage
In the talk above, Shirky focuses on the power of community rather than technology, exploring the capabilities of open-source communities like GitHub. There is reason, he says, both to temper our optimism about the Internet and to embrace it. The revolutionary talk we often lapse into when we talk about the Internet -- the idea that it will, in general, change everything -- is not new, Shirky points out. "When the telegraph came along," he notes, "it was clear that it was going to globalize the news industry. What would this lead to? Well, obviously, it would lead to world peace. The television, a medium that allowed us not just to hear but see -- literally see -- what was going on elsewhere in the world, what would this lead to? World peace. The telephone? You guessed it: world peace."
And, of course, there is still -- much to the chagrin of the world's hopeful and the delight of the world's pageant contestants -- no world peace. But what all the idealistic predictions got right, Shirky points out, was this: "When a lot of new ideas suddenly come into circulation, it changes society." And what they got wrong was the most important part of the equation: "what happens next."
The video is, being a TED talk, about 18 minutes long, and well worth the watch.