Behold, the Toothbrush That Just Saved the International Space Station
Astronauts aboard the ISS find a low-tech way to solve a high-tech problem.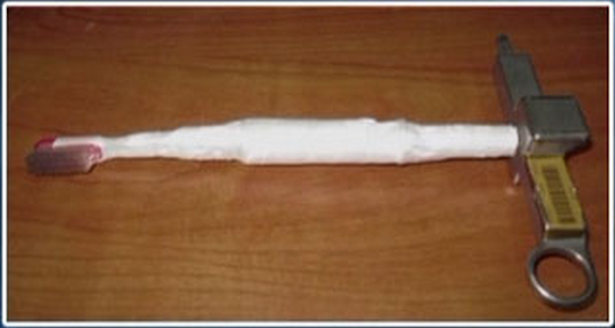 It was a little like Apollo 13 -- if its mission to the moon had been saved by a tool of good oral hygiene, that is. Yesterday the International Space Station, having battled electrical malfunctions for over a week, was repaired by a combination that MacGyver himself would have been proud of: an allen wrench, a wire brush, a bolt ... and a toothbrush.
Yep. It went like this: The International Space Station, currently home to six astronauts, last week encountered a malfunction in its Main Bus Switching Unit. The ISS has four of those units, each of which weighs (on Earth) 220 pounds, and each of which harnesses and then distributes power from the outpost's solar arrays. The malfunction of one unit meant that the station was unable to relay power from two of its eight arrays -- a scary ratio, when your home happens to be a meandering metal tube.
But no big deal, the flight crew thought; this was exactly the kind of thing they'd prepared for. They'd just do a space walk, repair the damaged unit, and move on. So, last Thursday, NASA's Sunita Williams and the Japan Aerospace Exploration Agency's Akihiko Hoshide -- armed with highly technical training, armed with highly technical tools -- ventured outside their extraterrestrial home to install a new MBSU. But the pair encountered a problem: Metal shavings had accumulated around one of the existing unit's bolts, making it impossible to replace with the tools they had on hand. The thwarted attempt at maintenance ended up taking 8 hours and 17 minutes -- making it, NASA reports, the third longest extravehicular activity in the history of U.S. spaceflight.
But the Space Station's predicament remained. And it was made worse by the fact that, on Saturday, one of the ISS's direct switching units failed -- bringing a third solar array offline. Things were getting more dire.
So, yesterday, Williams and Hoshide ventured outside the space station once again. This time, though, they were carrying a new set of tools -- ones they'd improvised from materials aboard the space station. Including a can of nitrogen gas and, yep, a toothbrush.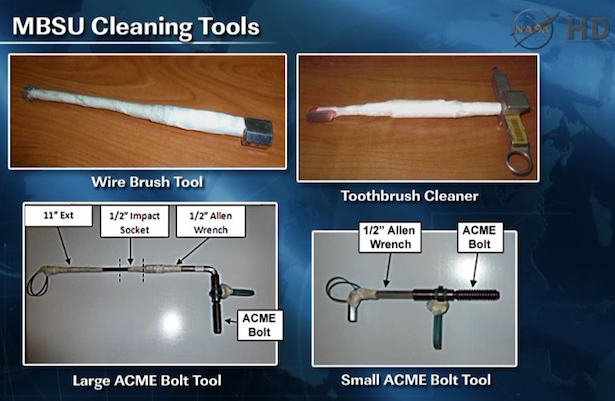 This time, aided by the improvised tools, the repair worked. "I see a lot of metal shavings coming out," Hoshide announced, maneuvering a wire cleaner around one of the bolt holders. The holder thus liberated, he and Williams were able to complete the repair.
"Looks like you guys just fixed the station," astronaut Jack Fischer radioed from Houston. "It's been like living on the set of Apollo 13 the past few days. NASA does impossible pretty darn well, so congratulations to the whole team."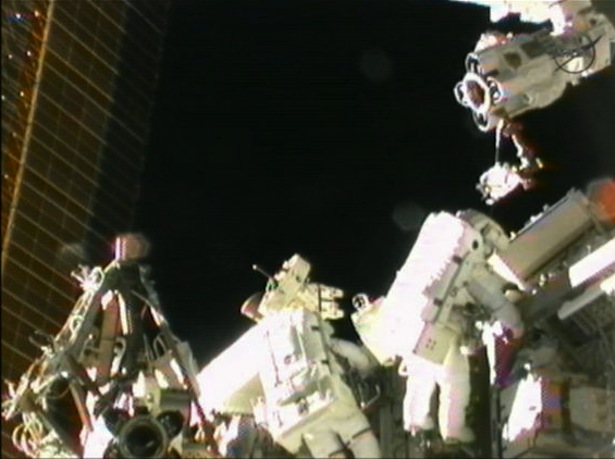 So: balance restored! Day saved! A $100 billion space station, repaired by a $3 toothbrush! And even better news: None of the astronauts on the ISS had to sacrifice their mouths to the cause. The heroic toothbrush, NASA makes sure to point out, was a spare.