A New Kind of Crisis for the Day Your Book Is Published
Once again, ebook consumers are overlooked.

Amazon.com
I awoke this morning to find that, as I had expected, and thanks to the miracle of modern electronic technology, J. K. Rowling's new novel The Casual Vacancy had been downloaded to my Kindle while I slept. It wasn't likely that I would have time to read it today, but over breakfast I opened it up to take a look -- and then blinked and adjusted my glasses. The print was tiny -- unreadably so.
But this, surely, was no problem: type size is adjustable on the Kindle. So I bumped it up a notch, only to be dismayed to see that the effect was almost imperceptible. Another notch: an equally incremental change. I kept increasing the size, with the same lack of effect, until I got to the next-to-biggest setting, at which point the type blew up to the 10-words-per-screen size. Unreadably tiny and unreadably big are, for now, the only options.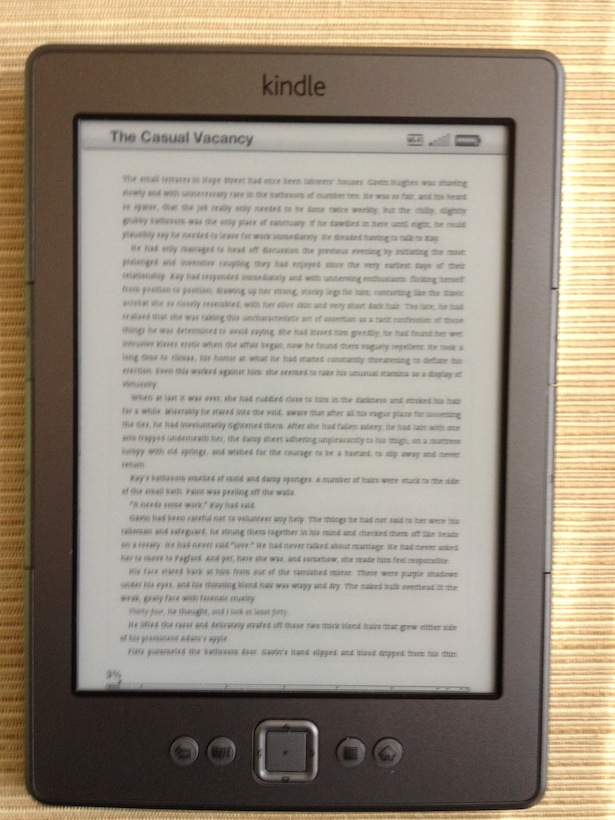 Over at Amazon.com, readers are not happy, and a quick look at the Barnes & Noble site indicates that Nook users are having the same problem. Apparently the publisher sent an electronic edition out into the world without testing to be sure it was formatted properly, which, given the size of the e-book market, is an almost unamiginable oversight -- but then, we e-book lovers are used to this. Almost every e-book I have ever bought has had formatting errors and typographical strangenesses that almost never occur in print books.
To look on the brightest side possible, though, perhaps this will be a turning point: perhaps this will be the e-book equivalent of the football refereeing decision that shook the world and then got the regular refs and the NFL's legal eagles back to the negotiating table, where they quickly worked out a deal. Perhaps the sheer scale of this error, with one of the biggest books of the year, will be enough to convince publishers that e-book editing deserves the same attentive care as the editing of print books. We can only hope.