Why Are There *Blue* Rocks in the Latest Photos From Mars?
Even the most casual fan of space travel would notice something funny about the latest image from the Mars Curiosity rover, as seen below. I mean, they call Mars the "Red Planet" for a reason, and here we are looking at blue rocks.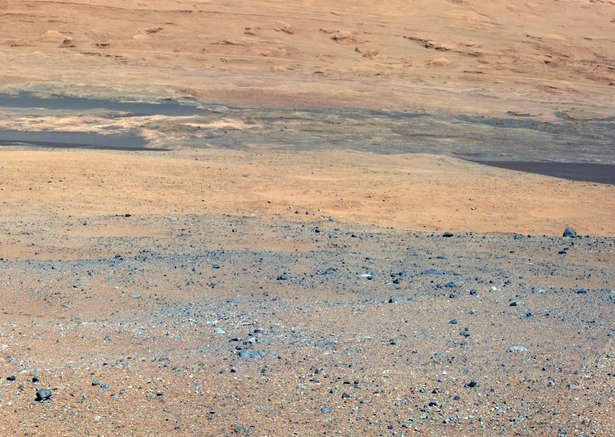 There is an explanation for this unexpected photographic turn, but first, take a look at a similar image from the Curiosity mission: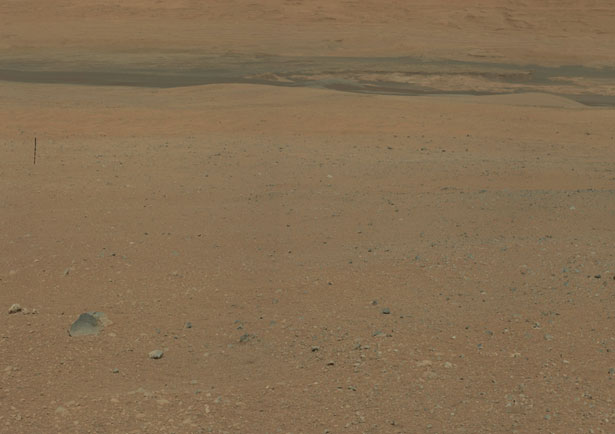 Big difference, right? The bottom image shows just how the plain would look if you brought your Canon G11 and started snapping photos. It is what Mars actually looks like.* The light from the sun as filtered through the dusty Martian atmosphere makes everything look red to your eye.
"If you were to take a picture without white blanacing, everything would look reddish. When we take our images and have uncorrected images, there's a little less contrast in the ground. The shadows aren't dark. There is a lot of diffuse light... in the air," Ashwin Vasavada, deputy project scientist at JPL, told a teleconference of reporters today.. "When we correct for Earth sunlight, you get a lot more contrast."
Why would NASA scientists want to Photoshop their own images of Mars? Well, there's a problem with having a bunch of geologists look at these types of all-red images: though Mars has many of the same types of rocks that we have on Earth, they don't look the same there. The change in the light actually makes it harder for our scientists to figure out what they are looking at. So, you drop in the "Earth sunlight" filter and bang, everything is a little bit easier to see, precisely because it looks less Martian.
Is this 100-percent necessary for planetary geologists to do their work? No, but it probably helps to be able to bring decades of experience and intuition from working in earthly lighting to your work on Mars. And don't worry: the images from the Curiosity mission are going to be released in both Marsy and Earthy varieties.
* How we make images of space and other planets always reminds me of the contingency of our own visual systems. We see these wavelengths but not those. We see this much light, but not that much. And we see, almost always, in the light on Earth. These things seem like constants built into the fabric of reality, but that is only because we are humans on Earth. Animals don't see precisely like us and neither do our robots. So when we see images from Hubble that are obviously false-colored, should we complain because "that's not how a human would see it?" Or should be just give in to the glorious subjectivity of visual experience?