'When You Supervise a Woman': The 1940s Instructional Manual
Congratulations, old chap! You've done the deed: You've gone and hired women to work on your factory floor! Very progressive of you, sir!
But ... now what?
The blog Retronaut has unearthed a booklet, created by RCA in the 1940s, intended to inform male bosses about the best ways to supervise their new LadyHires as World War II brought females into factories, often for the first time. The brochure's overarching message: Take heart, gentlemen! The fairer sex may seem foreign; given the right treatment, however, women can be downright decent as employees. And now that you've made your investment in the ladyfolk, you'll be pleased to discover that, among other things:
1. WOMEN ARE TEACHABLE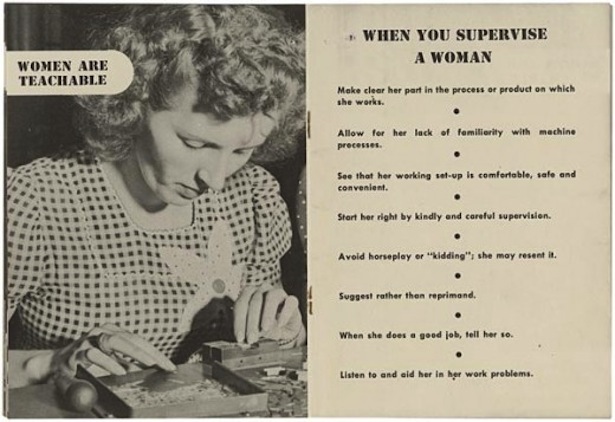 2. WOMEN ARE PATIENT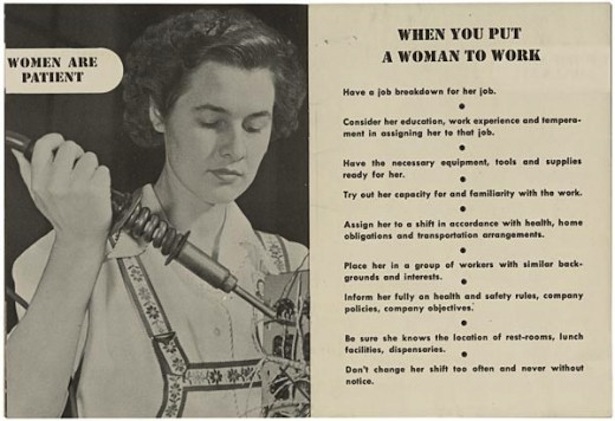 3. WOMEN ARE COOPERATIVE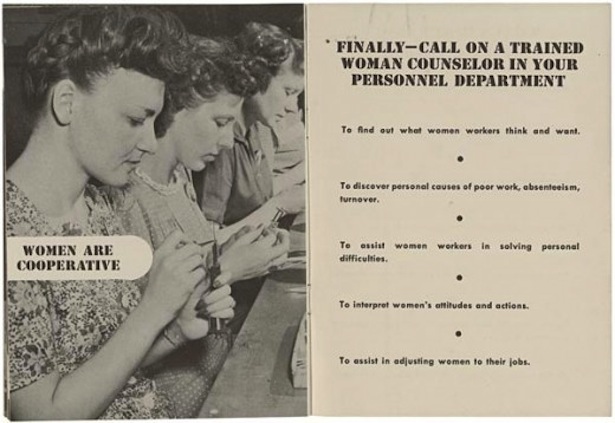 What's remarkable about this is that none of the qualities highlighted or advice dispelled in the booklet is actually specific to women. "Tell them what they're supposed to do" and "tell them when they've done good work" and "make sure they know where the bathroom is" are not nuggets of wisdom that are in any way particular to womenfolk. They're just, you know, what any boss should probably be doing for any employee.
So while these brochures are both ridiculous and hilarious by today's standards, they're also sort of sad: a reminder of how institutionalized sexism and its analogs can be, in the workplace and beyond. In this case, women's otherness is so integrated into the mind of the brochure-bound advice-givers that even the most basic piece of workplace banality takes the guise of a "women's issue" -- with the goal, of course, of being helpful to the ladies in question. In almost every instruction in the booklet above, the authors might as well have used the word "employees." But they didn't. They chose "women." Good thing women are patient.