What Sydney's Doing Right Now (According to Instagram)
"This Is Now" uses the Instagram API to make a story from the service's data.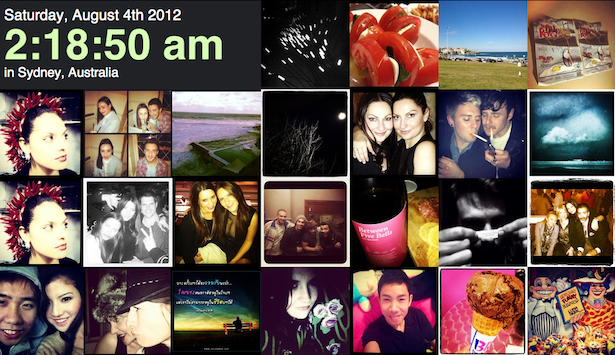 This Is Now
At this point, well more than 1 billion photos have been uploaded to Instagram. And even before the photo-sharing service launched its Android version, those images were uploaded at a rate of more than 5 million a day. That means that Instagram is not only a quirky social network -- and not only a powerful reflection of life as it's lived in charmingly aestheticized moments -- but also an image-driven database. The service conveys a wealth of information about people's lives as they choose to record them and share them, in nearly real time.
Now, there's a tool that builds with that information, transforming it tangentially into a new kind of product. It's called "This Is Now," and it displays close-to-real-time streams of Instagram's public images -- images drawn, via their geotags, from five cities: London, New York, Sydney, Tokyo, and Sao Paulo. The result is a collection of images united by little more than space and time: They are, like most images on Instagram, both intimate and fragmented. They are disconnected, for the most part, from narrative. And yet they represent the same city at the same moment. That moment, singularly and powerfully, is what connects them.
"This Is Now" was built -- "with love" -- by the developers Marcio Puga (based in Sydney), Per Thoresson (based in Sydney), and Mauricio Massaia (based in Brazil). They built it, they say, to be both a tool and a story. And it's an illustrative use of the Instagram API to create something that is much more than the sum of its pretty, quirky parts.