What Apple's Legal Win Over Samsung Means for You, Technology, Design, and the World
Everybody who makes or buys cell phones will be affected by Apple's big patent win over Samsung. We break down the winners and losers.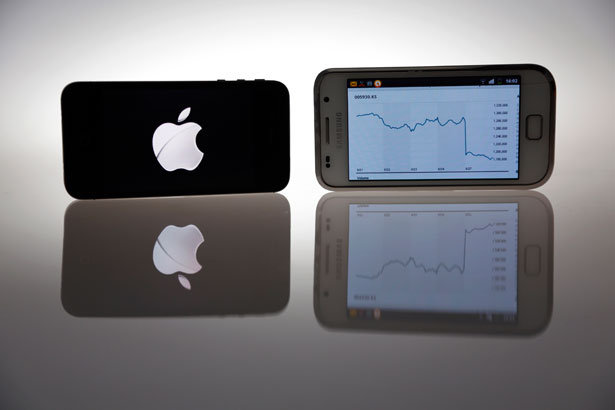 Apple's victory last week in district court, in which the world's richest company was awarded a billion dollars in damages, is one of the year's biggest events in technology.
It's also complex and parsing the winners and losers across Silicon Valley and beyond isn't that easy. Luckily, tech journalists are ON IT. They've been cranking out explainers for days, delineating what it all means for you and Google and innovation and technology broadly and patent law, etc. So, we decided to round them all up in one place.
Here's what Apple's win means for...
You:
Get ready for the Apple tax, at least in the short term. After its stunning victory against rival device-maker Samsung Electronics Co., experts say consumers should expect smartphones, tablets and other mobile devices that license various Apple Inc. design and software innovations to be more expensive to produce.
-- 
After Verdict, Prepare for the 'Apple Tax'
We're likely to see big changes to the ways that operating systems, form factors and everything else that makes up "user experience" function. For Apple, it means business as usual.
-- 
What the Apple vs Samsung Verdict Means for Consumers
The outcome will probably mean a broader range of devices and more options for consumers as rivals seek to avoid costly legal tussles, said Carl Howe, an analyst at Yankee Group. "This is a big win for Apple," said Howe, whose firm is based in Boston. "It's good for innovation. It says that if you create something new, others can't just piggyback on it. From a competition point of view, it says create your own stuff. It says copying is not OK."
-- 
Apple Patent Victory Seen Spurring Wider Range Of Smartphones
Today's verdict should not be viewed as a win for Apple, but as a loss for the American consumer. It will lead to fewer choices, less innovation, and potentially higher prices. It is unfortunate that patent law can be manipulated to give one company a monopoly over rectangles with rounded corners, or technology that is being improved every day by Samsung and other companies. Consumers have the right to choices, and they know what they are buying when they purchase Samsung products.
--
Samsung's post-verdict statement
Technology
And what of the patent process that has given Apple such leverage?

Richard Posner, a well-respected federal judge in another Apple-versus-Android case (this one, which he threw out of court, involved Google's Motorola unit), has famously called said there are "serious problems" with the current patent system, warranting an overhaul. We're stuck with what we have for the moment, however.

And if Apple can abuse that off-the-rails system to thwart innovation and the iterative process that sees all tech companies build on the successes of the past, the most valuable company in the world will have more power than what it has richly earned through smart business practices.

The cases in Seoul, San Jose and around the world are about everyone's future. For people who believe in competition in technology, and freedom in how we use it, Friday's events were bleak, indeed.
--
Apple crushes Samsung in quest for global tech domination
Samsung:
Several of Samsung's budget-oriented Android phones and older flagship devices may eventually disappear from the market. The silver lining for Samsung is that many of those devices are nearing the end of their lifespans, or aren't designed to be for sale very long. (Certainly none have a lifespan like Apple's iPhone 3GS, released more than three years ago and still available today.) Samsung will fight Apple on import bans, and may succeed in keeping devices on the market or at least creating a delay. But -- for now -- Samsung's current flagship smartphone and tablet products will remain on sale, and you can bet Samsung's future smartphones and tablets will be increasingly divergent from Apple's.
--
What the Apple vs. Samsung verdict means for Android
I think this is actually a sizable win for Samsung. Why? It only cost $1 billion to become the #2 most profitable mobile company. Remember how much Microsoft paid for Skype? $8 billion. So, for 1/8th of a Skype Samsung took RIM's place and kicked HTC's behind. Not too bad. 

Unless the judge rules Samsung can't sell its products. Even then I bet Samsung arrives at a nice licensing deal with Apple.
--
Robert Scoble on the verdict
The future of design
Bill Flora, creative director at a design firm in Seattle called Tectonic, acknowledged both positive and negative feelings about the verdict...

He said the decision could also create a "minefield" for product designers, in which they are constantly second-guessing whether functions will step on someone else's patents. Mr. Flora is concerned, for example, that Apple's patent on the pinch-to-zoom function covers a gesture that now is so common that touch screen products without it would be like cars with square or triangular steering wheels. "It's very much like a circular steering wheel," he said.
--
Apple-Samsung Case Muddies the Future of Innovations
Apple and Samsung's relationship (Samsung makes components of Apple products)
While Samsung Electronics is reeling from a patent pounding by its smartphone rival Apple Inc, this is unlikely to damage the other part of their relationship - where Samsung is the sole supplier of Apple-designed chips that power the iPhone and iPad.

At an emergency meeting in Seoul early on Sunday following the damning U.S. legal defeat, the South Korean group's post mortem was led by vice chairman Choi Gee-sung and the head of the mobile business JK Shin, rather than by CEO Kwon Oh-hyun, whose primary role is in charge of the components business. 

 The clear message from Samsung is that a strict internal firewall between its handset business and its components operations remains intact.
--
Analysis: Friend and foe; Samsung, Apple won't want to damage parts deal
Android and Google
Google, owner of the world's largest Web search engine, lets mobile-phone manufacturers weave its Android operating system into their handsets at no charge. It suffered a setback on Aug. 24, when a California jury said Samsung, the biggest user of Android, infringed Apple patents. 

"This verdict is a major victory for Apple vis a vis the Android ecosystem," said Toni Sacconaghi, an analyst at Sanford C. Bernstein & Co., in a research report today. "That said, we don't think it is a game-changing loss for Android."
--
Samsung-Apple patent verdict a blow to Google's Android
Other smartphone makers:
"The other makers are now scrambling" to find alternatives, said Rob Enderle, a leading technology analyst based in San Jose.

Seo Won-seok, a Seoul-based analyst at Korea Investment said that the popular zooming and bounce-back functions the jury said Samsung stole from Apple will be hard to replicate. 

The companies could opt to pay Apple licensing fees for access to the technology or develop smarter technology to create similar features that don't violate the patent - at a cost likely to be passed onto consumers.
-- 
Apple's $1B Patent Verdict Could Corner Market
Microsoft:
My only observation on all this, since I haven't followed the Apple vs. Samsung proceedings in anything but the most cursory way, is that Microsoft often advances when its competitors fail. Exhibit A: Xbox vs. Sony PlayStation. In a number of cases, Microsoft's marketshare in a given space has grown not because of anything the Softies did proactively, but because of its rivals' missteps. Might Windows Phone be another example of this? Thoughts?
-- 
The Real Winner in Apple vs Samsung: Microsoft?