This 'Thrilling Image' Shows the Martian Hills Where the Curiosity Rover Is Going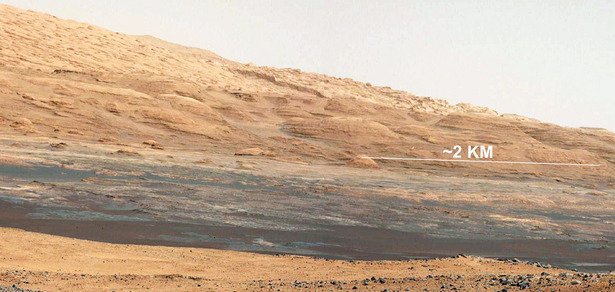 It's been a few days since the Curiosity rover sent back a stunning image of the Martian landscape. We were getting impatient, actually. But no longer! Check out this view of the lower reaches of Mt. Sharp, which the rover uploaded late to JPL.
This is our best view yet of the layered formations to which the Rover is headed. John Grotzinger, project scientist of the Mars Science Laboratory, called it a "thrilling image" in a teleconference with reporters this afternoon.
"If the surface of the crater looks like the Mojave," Grotzinger said, "This looks more like the Four Corners area of the Western US, or Sedona Arizona, buttes and mesas."
Grotzinger followed up on the photo later in the call. "These are the foothills of Mt. Sharp," he said. "There are hills there that are the size of 2, 3, 4 story buildings with canyons running through them."
Here's some context for the image above. It's taken roughly in the area of the red box, based on Grotzinger's direction.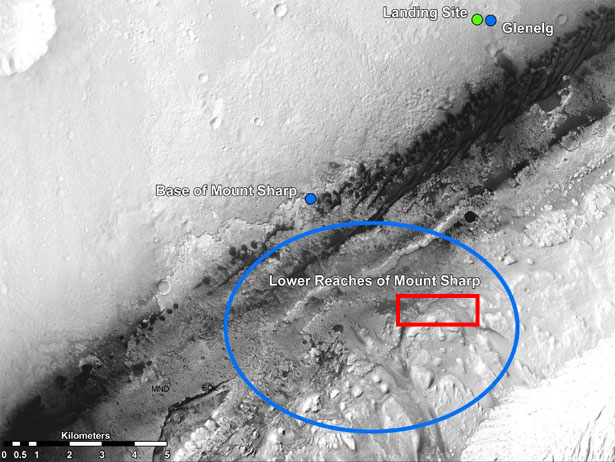 The new image is a much better view of the area than we previously had, as you can see from the decidedly lower-resolution (and grayscale!) panorama that was released earlier this week below.
The top image is probably taken from near where you see the red box in the panorama below.

And, this is roughly the direction that the Rover is looking, towards its target area.