The Curiosity Landing Already Has a Meme: NASA's 'Mohawk Guy'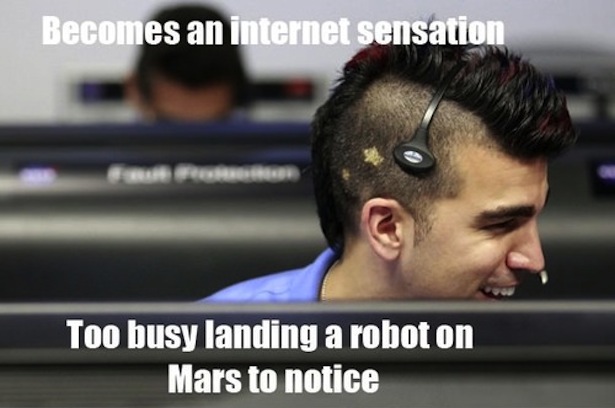 9Gag.com/gag/4960372
As millions tuned in to watch the livestream and the television coverage of tonight's (successful) Curiosity landing, one Mission Control staffer stood out among the others: a dude with a mohawk. And not just any mohawk: an intricate red and black affair, with yellow stars dyed in the sides of the wearer's head.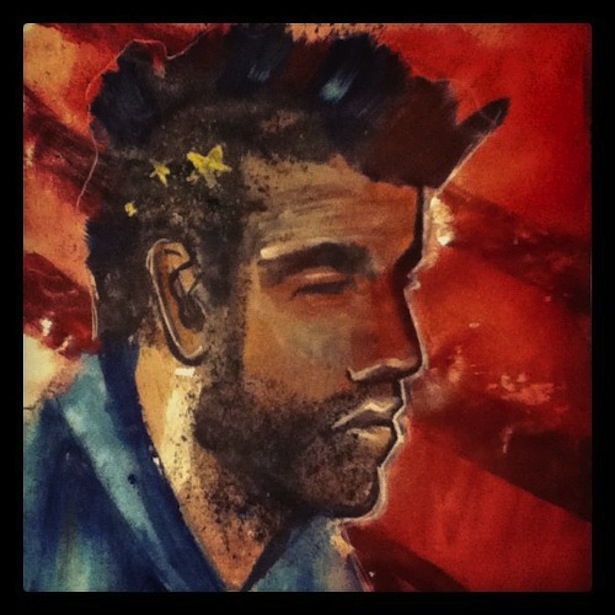 http://fuckyeahbobakferdowsi.tumblr.com/
The wearer, it turns out, was mission Activity Lead Bobak Ferdowsi, manning the controls in NASA's self-imposed sea of powder-blue polos. Ferdowsi gets a new hairdo for each new mission -- and this particular coif was the one voted on, for the Curiosity landing, by the rest of his team. It was meant to be patriotic as well as cosmic: Apparently the original design was supposed to incorporate blue.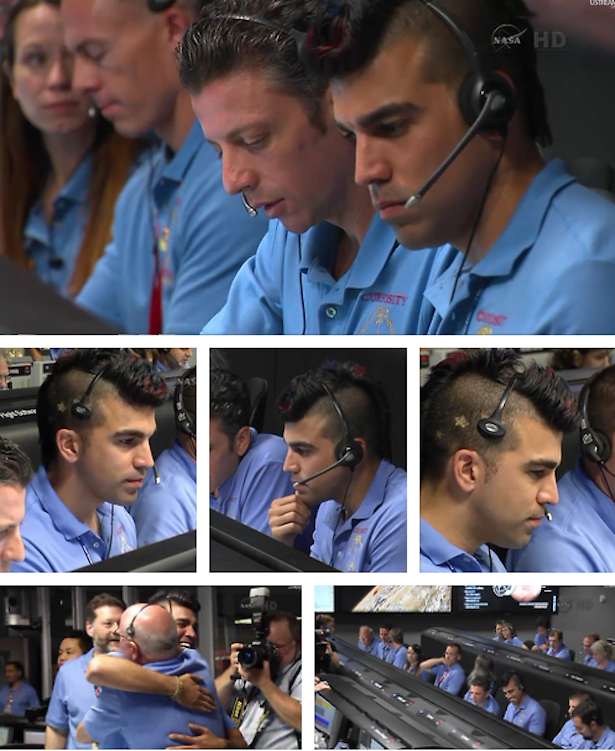 http://fuckyeahbobakferdowsi.tumblr.com/
The hairdo, its empiric awesomeness aside, was also a visual symbol of the humanity at the core of NASA's achievements. We may associate the agency with rockets and robots and missions to places that are distinctly inhuman; Ferdowsi's mohawk, though, served as a reminder of the individual people -- the quirky people -- who make all that progress possible. So, as the Internet waited for news of the Curiosity rover's fate, it cast its collective gaze on Ferdowsi -- not just as the bearer of an excellent hairstyle, but as a proxy for every person who made the rover's tension-filled landing, ultimately, a success.
And the Internet rewarded Ferdowsi's daring 'do in the best way it knows how: by making it into a meme. An instant one. The Internet gave Ferdowsi, in the space of an hour, a dedicated Tumblr. It gave him tags on Tumblr. It gave him a specialized visual taxonomy, featuring images categorized as, for example, "Smiling Bobak," "Nervous Bobak," "Teamwork Bobak," and "Busy Bobak." And it gave Ferdowsi, who tweets at @tweetsoutloud, a cosmic rise in Twitter followers: nearly 8,000 of them in the past couple hours, up from a mere 200 before tonight.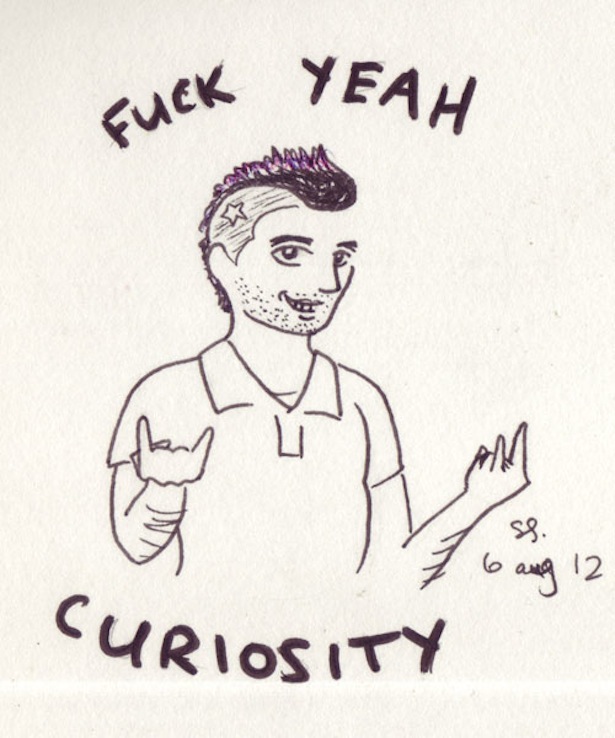 http://saargasm.tumblr.com/
In return, Ferdowsi gave the Internet, as it waited for news of Curiosity's fate, what every meme provides: something to talk about -- and something to rally around.
You guys, there is a guy working at NASA who has a mohawk! PUNK SCIENCE!

-- Lindsay Pavlas (@LindsayPavlas) August 6, 2012
i don't know much about science but I'm pretty sure we couldn't have done it without Mohawk Guy @tweetsoutloud

-- Danny Baranowsky (@dannyBstyle) August 6, 2012
"Forget the thick black framed glasses, polyester ties and pocket protectors of the control room staff at the Apollo landings," one writer put it -- "this is the face of 21st century NASA!"
Indeed. And, fortunately, that face is very good-natured about its instant Internet celebrity.
Internet, you win this round. I'll be back later, but thanks so much. Now going to celebrate with all my friends and team! #msl

-- Bobak F. (@tweetsoutloud) August 6, 2012