A black hole with a mass of 10 million suns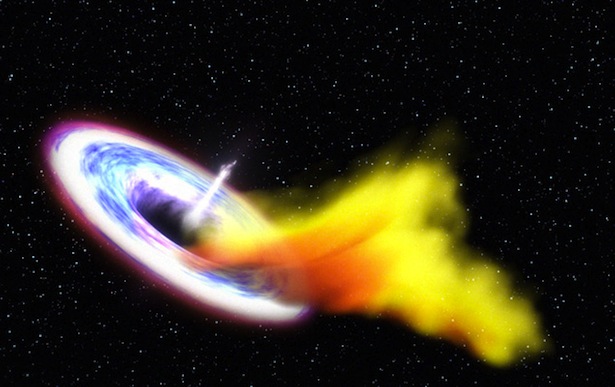 Last year, from a relatively safe location here on Earth, scientists watched a black hole swallow a star. That star, as it was succumbing to the appetites of the singularity that consumed it, sent out a kind of distress flare -- which the astronomers observed and named Swift J1644+57. (The name both recognizes the particular observatory that spotted it -- one outfitted with a specialized "Burst Alert Telescope" -- and provides the galaxy's celestial coordinates in Draco, its constellation.)
The scene that played out at that fateful moment offered not just an explosive cosmic drama, but also a wealth of information for scientists who study the stars. Because when a star is consumed by a black hole, some of its remains -- as depicted in the artist's rendering above -- emit x-rays. And measuring those rays can, in turn, provide us with clues about the mass of the black hole that tried to make a meal of them.
So when it came to Swift J1644+57's mass of matter -- given, you know, its voracious consumption of stars -- researchers wanted to know: How much does the black hole weigh? Or, this being space: What is the black hole's mass?
Now, in a paper published in the journal Science, the researchers have answered that question. This particular black hole, it turns out, was athletic in its youth, and everything, but as it got older, and took a desk job, and had kids ... well, you know how it is.

To test the black hole's current BMI, researchers used the data discovered by multiple satellites, which observed the x-rays of Swift J1644+57 fluctuating in strength every 200 seconds. Assuming that the fluctuation is the orbital period of hot gas revolving near the black hole, Science Magazine explains, those researchers were able to figure out the mass of the black hole, as a whole. And their calculation squares, it seems, with previous estimates. The black hole in question is supermassive, the authors estimate, with a mass equivalent to 10 million suns.