The Apollo 11 Landing Site Superimposed on a Baseball Diamond
Our moon landing may have been grand, but our astronauts did not go far.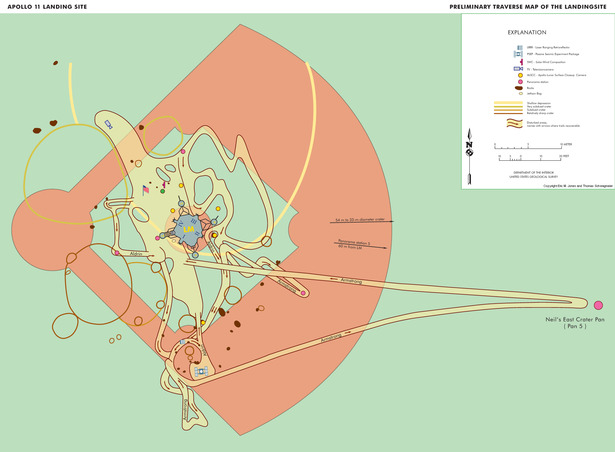 As we've reflected on Neil Armstrong's death* and the Curiosity Rover's arrival on Mars, I've found myself trying to comprehend two radically different scales: 1) the sheer immensity of our solar system and 2) the tiny scale of our actual missions to other celestial bodies.
I'm not sure I'll ever be able to think in the hundreds of thousands (or millions) of miles. At a certain size, the numbers seem so large they become arbitrary.
The second scale, though, is graspable. The problem is that we don't have an intuitive sense of distance on the Moon or Mars. Particularly with Curiosity, we have nothing we can use as a reference size. The same is true for certain Apollo photographs, particularly because they've been distorted by the lens of time, too.
So, I appreciate that Maria Popova brought back this fantastic visualization of the Apollo 11 mission at Ex.plore.com. It presents the mission's travels superimposed on a baseball diamond. German space enthusiast Thomas Schwagmeier created the map for NASA's History office and it's not only revealing, but beautiful. The original "traverse map" on which it was based is seen below. (You can click on them both to see them at full size.)
* My initial post misspelled Neil as 'Neal,' a mistake that I truly regret.