NASA's Rover Captures Gorgeous Panoramic View of the Martian Landscape
But it's not from the rover you think. Don't forget about Opportunity, who's been exploring the planet for eight years.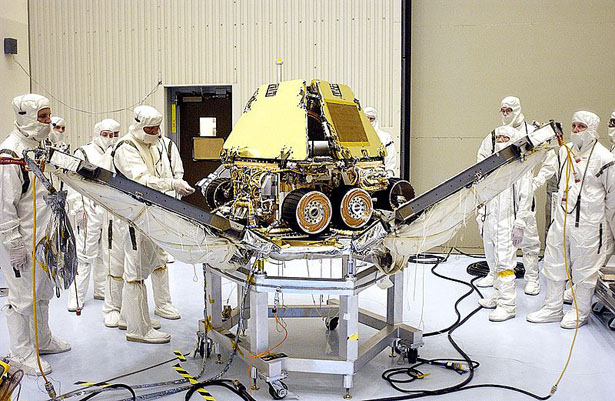 With all the focus on the Mars rover Curiosity, the awesome work coming out of the eight-year-old Opportunity can get overlooked. But Opportunity is still going strong, thousands of days after it landed on the planet. Opportunity's initial mission was to explore a region of Mars known as the Eagle Crater. But when it wrapped that up in just three months, scientists said, hey, we've got a working rover on Mars, let's keep going!
It then spent four years exploring nearby craters before setting out on a three-year journey to the Endeavour Crater, where it arrived last year. During the Martian winter running from December of 2011 to May of 2012, Opportunity stayed in one spot, its solar panels waiting to catch the sun's rays in the springtime. As it waited, it documented the view around where it sat, an outcrop known as Greeley Haven.
NASA has now taken 817 of the images to create this panorama, presented in false color to enhance the topographic features. So here it is in all its panoramic glory: Mars, a desolate sphere of rocks and dust, millions of miles away.
Click to expand to full size:

NASA explains that North is at the image's center and South is at both ends.
At the far left on the horizon is Rich Morris Hill, named after John R. "Rich" Morris, a rover team member who passed away in 2011. Zoomed in a bit: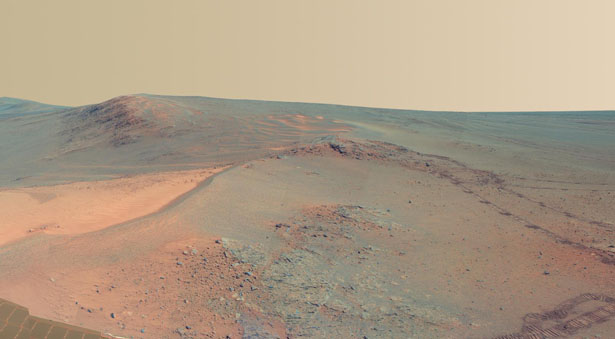 Also visible in the image is the path Opportunity took to arrive at Greeley Haven, coming from the south, turning to explore an area called "North Pole," and then maneuvering up to its wintertime perch. In some places, Opportunity disturbed the soil enough to reveal darker soils below the bright top layer of dust. A close-up: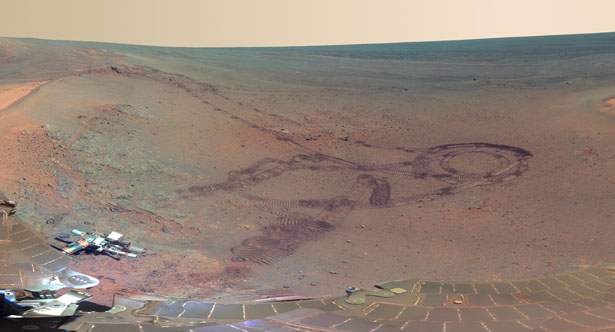 In the right half of the image, you can see the interior of the 14-mile Endeavour Crater just below the horizon. Here's that view: