NASA Survey Finds More Than a Million Previously Unidentified Black Holes
A new study observes 2.5 million active supermassive black holes, two-thirds of which had not been seen before.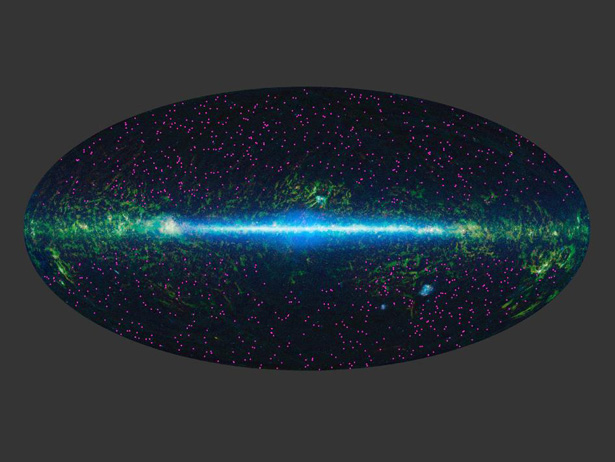 A new survey from NASA's Wide-field Infrared Survey Explorer has provided us with a map of our universe charting galaxies and black holes that had never been identified before. The above picture shows a panorama of the whole sky as viewed from Earth. Each purple dot marks an "extremely obscured object" in the universe, a galaxy hidden from our view by cosmic dust. Some of these galaxies are the most luminous ever found, 1,000 times more luminous than our own.
In addition to the galaxies, astronomers also found in the data potentially as many as 2.5 million supermassive black holes, two-thirds of which had not been seen before. These black holes, known as quasars, are circled in yellow in the image below, in a close-up view of an area of the sky that is about three times larger than that covered by the moon.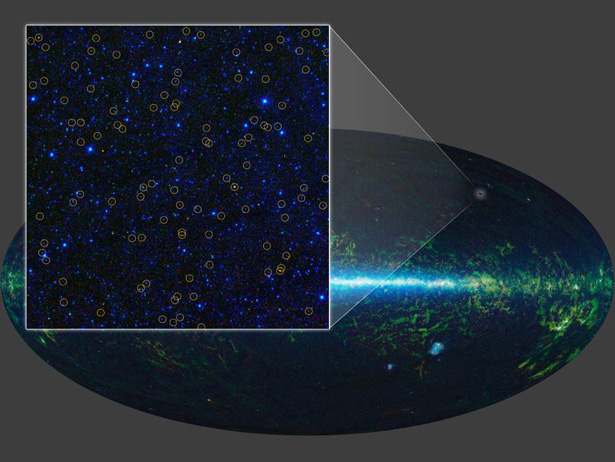 NASA zoomed way up on one of these galaxies, 10 billion light years away and putting out 37 trillion times as much energy as the sun. By comparing this image with the one above, you can see that the black holes (circled in yellow) are much, much more common than the galaxies.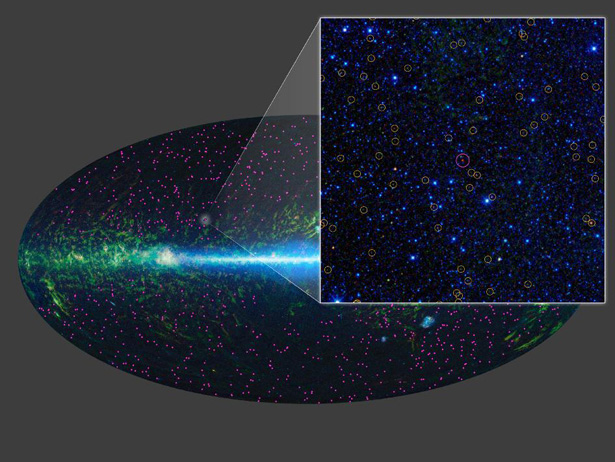 The data from WISE's survey, completed in 2011, are being released to the public. By combining this data with that coming from NASA's new NuSTAR telescope, NASA hopes scientists will gain a better understanding of how black holes shape the objects around them and, as always, sharpen our picture of how our galaxy came to be.