Meet the Kids—Now Adults—Behind 1995's 'Internet Prophecy' Video
The group includes a TV reporter, a grad student, a data control specialist ... and a programmer.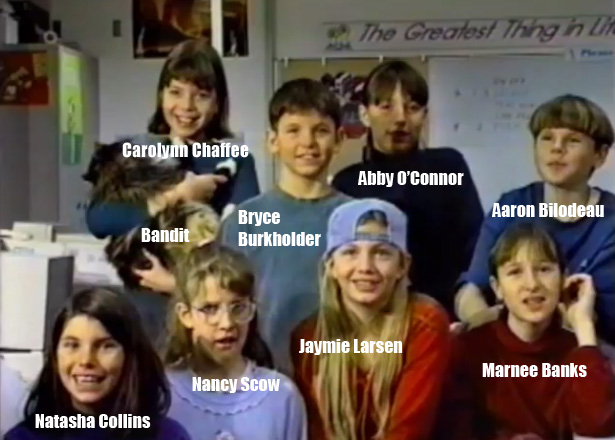 In the early 1990s, Cindy Gaffney attended a Silicon Graphics convention that showcased a new computer -- the Indy -- by way of a new invention: the World Wide Web. "Everybody in the room was absolutely amazed," Gaffney recalls. She could tell right then, she told me, that the Web would be "the way that we were going to be finding ourselves in the future." In 1995, Gaffney, who had been doing computer animation and film production work in San Francisco, moved back to her home state of Montana -- and she became a board member at the Myrna Loy Center in Helena, which had just gotten an Avid video editing suite.
"I thought, 'I'll just show kids here how to use it," she says of the web. Ultimately, "I wanted to really, really emphasize how important it was to know the Internet."
Gaffney wrote a script for a short PSA that would star kids from Helena's Ray Bjork school. And Barb Ridgway, the school's principal, selected a group of fifth-graders to be featured in the production. Those students both memorized Gaffney's lines and improvised some of their own. And they did much of the research that would inform the film, finding ways to apply the Internet to their own lives. Natasha Collins, for example -- she's the brunette in the royal-blue turtleneck -- mentioned that the Internet allowed you to "chat with a friend in Australia" because she herself had a friend in Australia: an exchange student who had lived near Collins when she was in Helena in the early 1990s. The pair had maintained their friendship as pen pals, Collins told me, and "I thought, 'wouldn't it be cool if I didn't have to wait a month to get a letter?'"
And then there was Carolynn Chaffee, the video's cat-holder. She brought Bandit -- her family's pet, and the film's co-star -- from home on filming day specifically for the purpose of the PSA.
While the video has been dubbed "prophetic" in large part because of its recognition of the feline foundations of the Internet, "the cat was kind of an accident," Gaffney says. Or, well, it was the will of the Internet and an accident. "When I was looking for [web] pages to put in the video, there were lots of cats already," Gaffney notes. "That's where I got the 'Feline Information Page' thing." Bandit was making, essentially, a rhetorical point: "Even as far-fetched as cats and cupcakes, you can already find it on the Internet."
So: prophetic? Yes. But unintentionally so. "It was a joke, really," Gaffney says.
More intentional was the 90s-tastic look the students sported in the film. Believe it or not, Collins says, it could have been worse. The students were told not to wear brand-name clothes, she recalls -- because the point of making the video was to air it as a PSA -- and to avoid clothes that would be too bright or loudly patterned to work well on TV. Which means that the kids were saved from the harshest mid-90s-ness that their video might have otherwise conveyed. There was no B.U.M. Equipment. There was no No Fear. There was no acid wash. "Some of the comments on the video say, 'Oh, they look so '90s," Collins says. "But we don't look as '90s as we could have."
Still. It's pretty amazing. The graphics, the glasses, the giant Macs (the biggest of which, Collins told me, was used to play Oregon Trail). And the video makes you wonder: Where are they now? What are they up to? And are they using the Internet? Here, as best as I could piece it together, are the kids who starred in the video. Clockwise from bottom left:
Natasha Collins
Collins currently lives in Chicago, where she's a grad student at the University of Chicago, studying public policy. She uses the Internet, she told me, to do much of her research.
Carolynn Chaffee
Chaffee lives in Billings, Montana, where she works in ... information technology.
Bryce Burkholder
Burkholder lives in Helena.
Marnee Banks
Banks is a TV reporte based in Helena, covering Montana state politics and, occasionally, education. She was actually covering a school board meeting when Ridgway, her former principal, showed her the "prophetic kids" video. They watched it on an iPad.
As a broadcast reporter, Banks has logged many, many video clips. But nothing has reached the popularity of the 1995 PSA. "I think it might be my most-watched video," Banks says. "I hope my career didn't peak when I was ten."
Jaymie Larsen
Larsen lives in Helena.
Abby O'Connor
O'Connor lives in Billings.
Aaron Bilodeau
Aaron Bilodeau lives in Helena.
Nancy Scow
Scow lives in Helena, where she works as a data control specialist at the Montana Office of Public Instruction.
It's been seventeen years since the group filmed their video. And though they've stayed in loose touch over those years -- meeting up when they've all been home for the holidays, that kind of thing -- the sudden virality of their mid-90s prophesies, they say, has given them a new reason to get back in touch.
And what's been enabling their reunions? Yep: the Internet.