Hurricane Isaac as It Appears in a Visualization of America's Wind
Weather data as art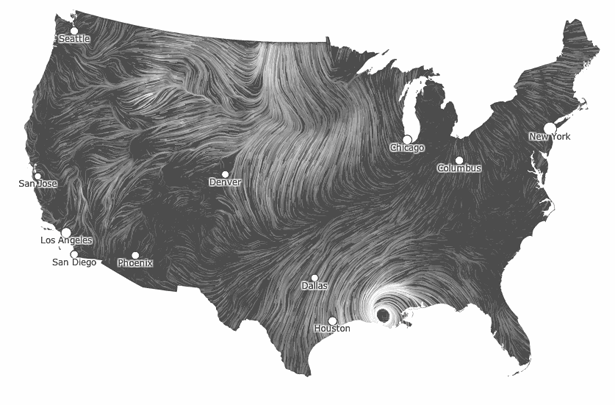 Here's a view of Hurricane Isaac unlike any other you've seen so far.
This comes from hint.fm, a collaboration of data-visualization stars Fernanda Viégas and Martin Wattenberg. Their wind map provides a nearly real-time glimpse of the wind flow around the United States, based on hourly data drawn from the National Digital Forecast Database. "So," they write, "what you're seeing is a living portrait." (It looks even better on their site, so definitely click through to see it in its full glory.)
The map is always beautiful, even without a hurricane's massive force. Today, though, it can give you a sense of just how far-reaching are Isaac's effects, just how much of the country can feel the winds, literally, of a storm in the gulf.
For contrast, on the Wind Map's gallery page you can see some different wind patterns from earlier this year (presented below as stills, but head to the gallery to see them in motion).