How the Most Epic Mars Mission Gets Turned into a Viral Ad, in One Oreo
Oreo commemorates Curiosity. (NB: "Red creme currently unavailable.")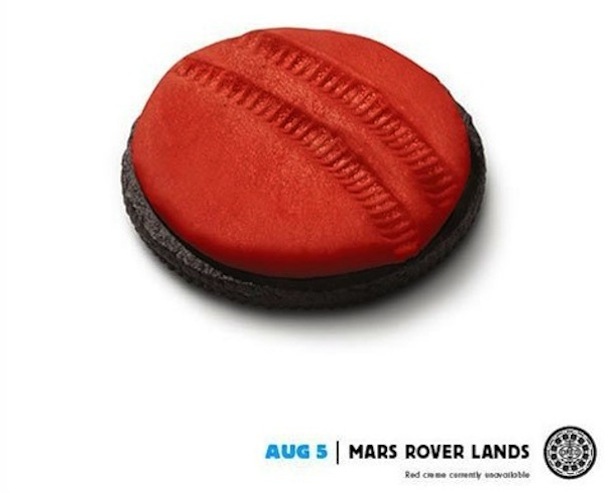 Daily Twist/Oreo
Among those celebrating the successful landing of NASA's Curiosity rover? Why, America's favorite sandwich cookie!
Oreo, Ad Week points out, is commemorating our Martian adventure with a cookie design -- not available, alas, in stories -- that pays tribute to Curiosity with Mars-red filling and distinctive rover tracks.
On the one hand: cute! On the other, though: meh. The Curiosity cookie comes as part of Oreo's "Daily Twist" project -- yep, that of Pride cookie fame -- which has been offering often clever, sometimes topical, and always Oreo-centric designs every single day since June 25. Which means that sometimes, inevitably, the designers have to stretch to find topics for those designs. "Rescued Manatee Gives Birth," for example, is one of the project's news items. As is "Parent's Day." As is "International Joke Day."
So: grain of salt. Or blob of creme, as it were. Oreo, with its "Mars Rover Lands" cookie, has not necessarily brought the realm of space exploration to the all-too-human dominion of creme-filled snack foods.
What's telling, though, is how casually the Oreo campaign, in its bid for virality, has merged the epic and the ordinary. Last night, we landed a robot on Mars. Today, a sandwich cookie celebrates that accomplishment. The fluidity here between history and banality -- and between science and pop culture -- is, actually, kind of wonderful. It represents an access point to a fairly complicated news story. It makes the epic seem accessible, and it makes the accessible seem just a little (teensy, tiny) bit epic.
Oreo's purpose, obviously, is commercial: It's trying to create a viral ad campaign. But the brand is still managing to inform and excite people about the possibilities of space travel, even as it tries to sell cookies. And to do all that, Oreo didn't have to buy a TV ad or produce a radio spot or do much of anything that required advance investment. It simply imagined an image and then threw it up on the Internet.