How Tech Has Changed How We Cook
A new survey highlights the impact new technologies have had on one of the oldest of human activities: cooking.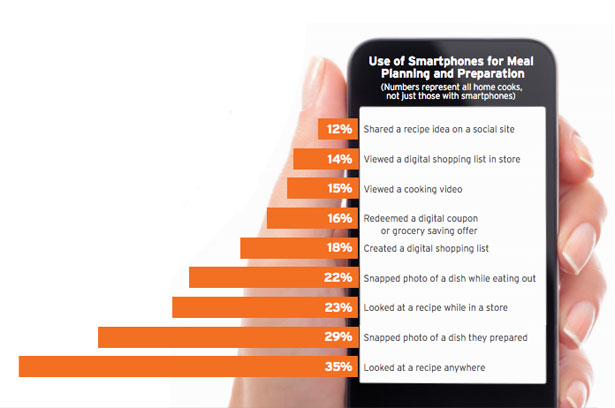 AllRecipes
The cooking site AllRecipes was founded 15 years ago by a group of food-loving anthropology grad students. In 1999, the then-two-year-old site surveyed its users, asking them questions about why and when and how they cook. Now, to commemorate its birthday, AllRecipes re-conducted that same survey, asking its current users the same questions it asked back in 1999.
The new survey's overall findings, unsurprisingly but still intriguingly, involve technology: Our new gadgets, and the connective capabilities that accompany them, are drastically changing the way we cook. Smartphones are changing how we think about grocery shopping. Search engines are changing how we think about recipe-finding. Video sites, almost as ably as Grandma, are teaching us how to cure bacon and chop an onion and truss a chicken.
Phones have led to some of the biggest transformations. In 1997, AllRecipes notes, "the typical cell phone weighed 10 ounces and was used primarily for making phone calls." In 2012, though, more than a third of AllRecipes' online cooks said they used smartphones to look up recipes and cooking techniques. Fewer, but still significant, numbers of people used their portable computers to create digital shopping lists (18 percent of all -- not just smartphone-owning -- responders), redeem digital coupons (16 percent), and watch videos to improve their cooking skills (15 percent).
Recipe sites, as well, have expanded cooks' capabilities. "Recipe sites are now the most frequently used recipe resource for home cooks," the (recipe site's) report notes. The current percentage of people who say they use those sites -- 86 -- represents a 207-percent surge from the 1999 percentage. And it eclipses cookbooks (66 percent), magazines (53 percent), and even -- no offense to your pal's amazing cassoulet -- friends (43 percent).
Videos are also playing a much more significant role in cooking culture. Three quarters of the women who took its survey, AllRecipes reports, watch cooking videos online. And the same percentage consider instructive videos to be an integral component of recipe websites. In 1999, only 45 percent of women (yep, the report is limited to women here) said the same. And nearly half of all cooks surveyed -- 43 percent -- believe that, in 15 years, more people will learn how to cook from videos than from their parents.
One more note -- this one concerning time. Contemporary cooks report having more time to do their cooking than did their 1999 counterparts. When the 1999 cadre was asked to share the most difficult thing about getting dinner on the table, 29 percent said "finding time to plan and cook." Today, that number has dropped 39 percent: Only about one in six respondents said the same this time around. Part of that may well be that, given the economy, concerns about time have been eclipsed by concerns about cost. But AllRecipes suspects something else, too: technology's ability to make tasks not just easier, but faster. With the free time that is the gift of our gadgets, we have even more opportunity to cook something good.