How Did We Get That Incredible Photo of Curiosity's Descent on Mars?
Breaking down what the Mars Reconnaissance Orbiter saw of our rover's descent.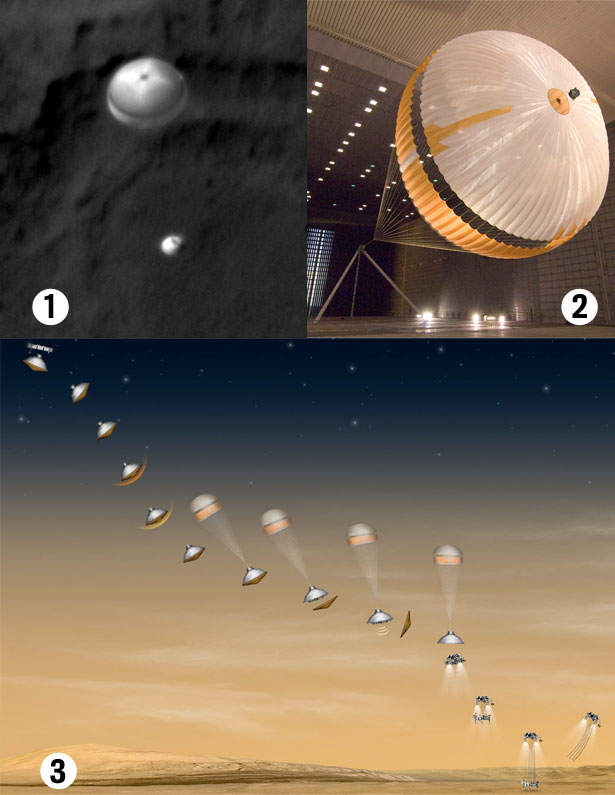 As the Mars Curiosity Rover descended through the atmosphere of Mars, humans on their couches weren't the only ones watching. The Mars Reconnaissance Orbiter, NASA's Martian satellite, was also looking -- and taking pictures. Today, the MRO released an image of the rover descending, still attached to its parachute and before the heartstopping Sky Crane maneuvers. You can see it up there on the upper left, labeled (1).
What you're looking at is a large parachute -- 16 stories tall, 50 feet in diameter, the largest ever flown outside the Earth-Moon system -- and beneath it, the one-ton rover with its "backshell" on. The parachute is on the upper right, labeled (2).
Finally, in the last panel (3), we see the full entry, landing, and descent sequence rendering. The MRO image is from about the middle of the overall maneuver, though it's difficult to tell if it was taken before or after the heatshield on the Mars-side of the rover package was jettisoned. The full frame from the HiRISE camera is shown below. (Click to enbiggen!)

Details aside, I find the coordination of our robots on Mars to be more mindblowing than even the amazing descent of the rover. This is a nascent exploration ecosystem. And the metaness of it all -- humans tweeting about watching a humanmade satellite watch a humanmade rover descend on Mars -- feels profound, not forced. The layers of effort and decades of organization necessary to make this feat possible provide the grit and structure for the easy triumphal narrative. 10 years of stale sweat, bad coffee, and thankless work for seven minutes of glory in the long story of knowing where we live.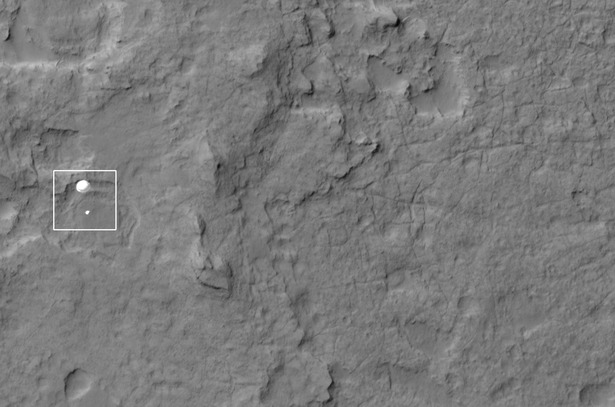 Work began on the Mars Reconnaissance Orbiter in the early 2000s, it launched in 2005 and reached its final orbit in March of 2006. Back in 2008, it captured a
picture of the Mars Phoenix Lander's descent
, but at much lower resolution due to a variety of factors.