How America Swears: Here's a Heatmap Tracking Twitter Profanity
The cities of our great nation drop the F-bomb with aplomb.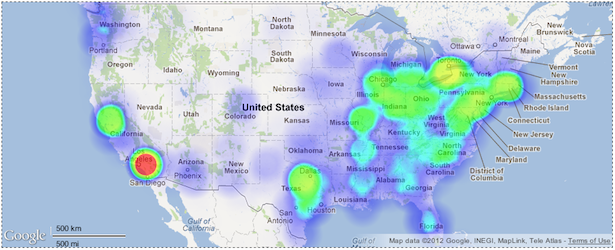 We know, at this point, how the nation tweets. But what about how the nation swears?
The Ukrainian-based web development firm Vertaline, aiming to answer that question, scanned tweets posted from across 462 specific locations in the U.S. The team then isolated particular phrases from those tweets -- one of those phrases being, yep, "fuck you," which they tracked between July 14 and July 24, 2012. They then created a dynamic heatmap that portrays the density of the F-bomb-laden tweets as they were distributed geographically throughout each day of their date range, measured once per hour.
The screencapped maps above and below track our great nation's keyword-ed conversation as it played out over a single day: Saturday, July 14. Particularly on the coasts, it seems -- and even more particularly in L.A. and NYC -- many, many fucks were given.
July 14, 5:20
July 14, 13:27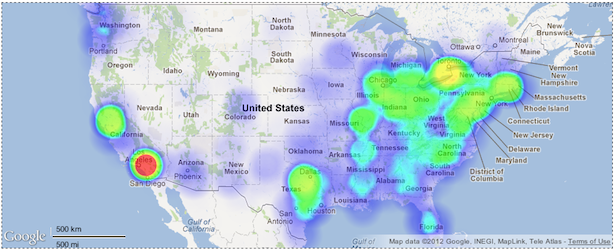 July 14, 16:32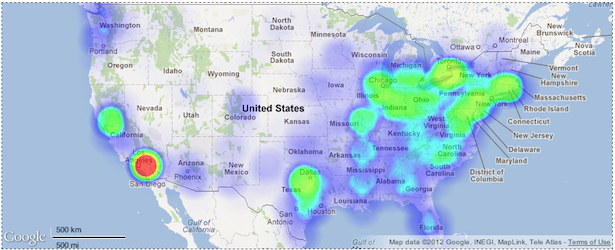 July 14, 19:36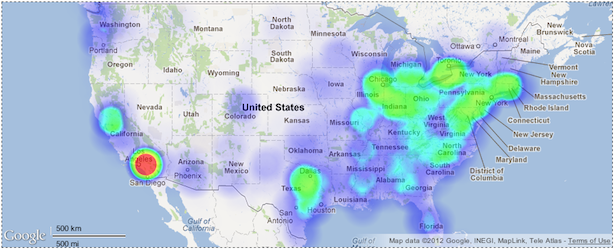 It's worth noting that the findings here are more a proof of concept than a scientific analysis: The high concentrations of F-bombs are correlated, just as you'd expect, with concentrated populations. These maps are charts of population density rather than, you know, per capita rudeness.
What the maps also are, though, is an illustration of what can be done when the Google Maps API and the Twitter API join forces. Vertaline might have tracked "Romney," or "healthcare," or "sandwich," and come up with something interesting and revealing about the national conversation as it's playing out on Twitter. Maps like this, more than anything, give us little snapshots of ourselves. They help us to transform imagined communities into visualized ones, one tiny tweet at a time.
Via Mashable