Happy 10th Birthday, Daring Fireball
It's a blog not just about Apple, but about excellence.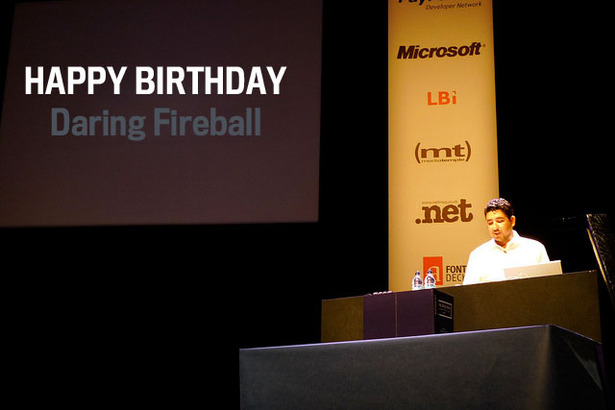 As best I can tell, today is the tenth anniversary of the first post on John Gruber's blog, Daring Fireball. The gray-green mainstay of Apple advocacy -- a blog which, even in 2012, still consists only of pith, links, blockquotes and the occasional essay -- has been around for a full decade.
I've read it now for a little over six or seven years. From pure force of habit, whenever I sit down at a computer, I open the browser and tap a few keys: control-t, t-w; control-t, g-m; control-t, d-a. Three new tabs with Twitter, Gmail, and Daring Fireball. And that's not because Daring Fireball (DF) is always wise or cheerful, or even that it always delivers a huge return. But it's a place where I know what I can expect.
Which doesn't mean its easy to describe. In a class, once, about online identity, I tried to articulate what made Gruber's site special. "It's a technology blog," I think I said, "about Apple."
"Oh?" There were inquisitive looks. Was I the kind of person who holds opinions about the worth of keyboard-and-mouse-related writing? (Then, the answer was yes, but that's not the reason I was talking about DF.) So then I added:
"Except, well, he also posts about Stanley Kubrick. And typography. And it has a grayish, greenish background and isn't obviously about Apple unless you start reading the posts."
"But it is really about Apple."
"And," (thinking back to a tweet I'd read years ago, which I've never been able to find again,) "it's about what it takes to be perfect."
Gruber's best when he's writing about perfection, excellence and what it takes to achieve either. He can describe eight iPhone Twitter clients, or the software limitations of the iPad, and evince a common sense of aesthetic. His voice can be muscular and rigorous. The man's clearly animated by a hatred of everything he knows to be BS.
But he maybe best understands excellence as it relates to blogging. His SXSW panel with Merlin Mann, Obsession Times Voice, captures the joy of great nonfiction. This, from a 2008 interview with Shawn Blanc, is still a better articulation of the joy of reading great sequential writing than you'll regularly find:
I've always enjoyed the way that with good columnists, it's not just that their individual articles stand on their own, but that there's something greater than the sum of the parts when you follow them as a regular reader.
And he can still better articulate what's fun and compelling about link-sharing (which he's been doing since before we deemed it curation) than anyone. From the same interview:
There's a certain pace and rhythm to what I'm going for [when I share links], a mix of the technical, the artful, the thoughtful, and the absurd. In the same way that I strive to achieve a certain voice in my prose, as a writer, I strive for a certain voice with regard to what I link to. No single item I post to the Linked List is all that important. It's the mix, the gestalt of an entire day's worth taken together, that matters to me.
The past year, DF hasn't been as enjoyable as its been in the past. Apple, Gruber's Beatrice, is engorged as a company, and seems now to be veering from interestingly complex to dully complicated. (I hope the next few months prove me wrong on both counts.) Ten years ago, Gruber picked the right story at the right time, and followed the most complete business turnaround and aesthetic parable in recent history. But, in light of that victory, his renegade confidence has become an assured superiority. He hasn't written, for a long time, an engaging description of a laptop or an account of an anthropomorphized interface element . (Though his weeks of posts after Steve Jobs's death were consistently great.)
But Daring Fireball remains exciting, because John Gruber has made Daring Fireball his home on the Internet. It reflects exactly the ethos he finds appropriate. It is a testament, still, to the power and potential of writing on the web, to the blogger as auteur, and to the sometimes hopeful and sometimes enervating integrity that can follow.
Six years ago, when he started writing for the site full-time, he quoted Steve Jobs's Commencement Speech at Stanford and explained why he had no other choice but to commit to writing full-time:
Your work is going to fill a large part of your life, and the only way to be truly satisfied is to do what you believe is great work, and the only way to do great work is to love what you do.

Daring Fireball is what I love to do.
At its best, DF has reflected the intensity and honesty of John Gruber's loves. Ten years, writing about what you love, is an accomplishment indeed.