From Tiny to Tinier: One GIF Zooms in on Bacterial Life
This GIF, composed of images from a scanning electron microscope, begins with a shot of an amphipod, a small crustacean. From there, it zooms in in in (you can see the scale constantly adjusting in the lower right-hand corner, from 1 milimeter to 500 nanometers over the course of the GIF), getting up close and personal with a diatom, a type of algae. And there, on that alga, sits a tiny bacterium.
Amphipod to diatom to bacterium, in one GIF.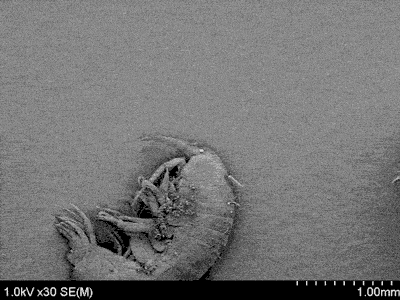 In recent weeks we've seen GIFs used to narrate Olympic drama, to express feminist grief over Todd Akin's comments, and to show us Curiosity's wheels moving on Mars, and, now, to bring us down to a scale of life invisible to the human eye. All this GIFery has left some wondering whether, maybe, we are approaching peak GIF. Perhaps, but even if this is the beginning of the end of these little reels, I'm going to enjoy them while we're here.
The above GIF was made by James Tyrwhitt-Drake at the University of Victoria.