eTalmud: The iPad Future of the Ancient Text
A new app edition of the Babylonian Talmud promises greater access and interactivity, but falls short on a few counts.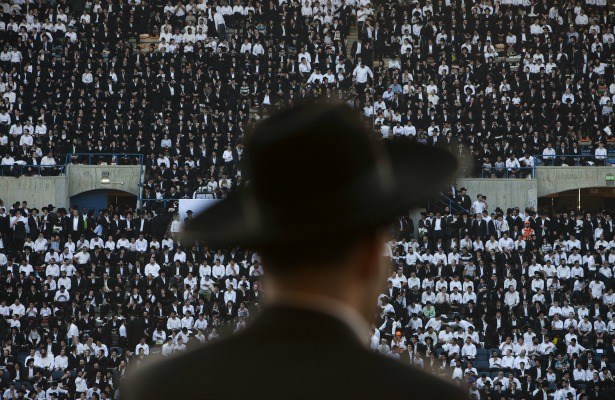 Last night, in the marshes of East Rutherford, in a stadium that is normally home to cheering football fans or screaming teeny boppers, some 90,000 Jews -- a sold-out crowd -- gathered for Siyyum HaShas, a celebration that marks the completion, after seven-and-a-half years, of the page-a-day (front and back) Talmud program know as Daf Yomi (literally "page of the day"). When the cycle begins anew later this week, some Talmud-reading Jews will become the first ever to take the challenge on, from start to finish, not on the written page but on an app.
The Talmud, specifically the Bablyonian Talmud, is the printed work of rabbinic discussions and legal interpretations collected and transcribed in Aramaic in the fourth and fifth centuries. All told, its 2,711 pages continue to be, for many Jews, the basis of their religious practice. In 1923, Rabbi Meir Shapiro introduced the idea of the Daf Yomi, and the first cycle began on Rosh Hashannah (the Jewish New Year) of that year. Last night's ceremonies marked the end of the twelfth such cycle.
MORE ON RELIGION IN THE DIGITAL AGE
For Jews who want to participate in Daf Yomi, there's really only one thing you need (besides, obviously, some serious Jewish literacy) and that, no surprise, is a Talmud, and a Talmud set -- 73 volumes for a mainstream edition with English translation -- is going to run you some $2,000 (though simple versions without translation can be less). It also weighs more than 200 pounds (and this is the small size, intended for Daf Yomi practice). All this to say, an iPad Talmud app could be much more convenient, affordable, and usable (despite it being off-limits on the Sabbath for many Shabbat-observant Jews).
Daf Yomi was created to bring Talmud study to more people. An edition known as the Schottenstein Talmud, published over a 14-year period from 1990 to 2004, continued that trajectory of popularization, by providing in depth English translations. Now ArtScroll, the leading Orthodox publishing imprint, has released the Schottenstein edition in a long-awaited app, and in doing so takes another step in that process of making the Talmud ever more accessible. The app costs about half as much as the printed version, though the exact price comparison depends on whether you opt for a subscription, package, or buy the volumes piecemeal. Any way you look at it, it's still not cheap. It's also not the first Talmud app, but the depth of the tools available (floating translations, pop-up commentaries, and multiple view options for different layouts and translations) set a new standard for Jewish text apps.
But here's what the app doesn't do: The app is a closed work, much like a book, and doesn't take advantage of the openness made possible with networked tablet technology. It's not repurposable (it's copyrighted); it doesn't allow for inline contributions or conversations; it's not social. It's a book made digitally navigable, but it's not a book made digitally interactive.
A video demonstrates the app's features:
The best part, at least as measured by my irony meter, is when the little bubble says, "We're taking interactive learning to the next level ... " and the proceeds to show a drop-down menu in which a user can reset the font, layout, and turn on and off different commentaries. So it's interactive, in the sense that you can manipulate the content that's available, but not in the sense that a user can contribute or build upon the work in any way. I suppose that is literally "the next level" from paper, but it certainly does not live up to what is possible on a tablet.
As Brett Lockspeiser, one of the people behind Sefaria, an open-source Jewish text resource, said to me, "It seems like it's basically the same content that you have in their printed [Talmud] right now. And so they have a fixed set of commentaries and elucidations that they already have, and now they're making them available on the iPad. It seems like an exciting app. It would be great to learn with, if you wanted to learn with an ArtScroll [Talmud], but it doesn't seem like it's opening it up in any sort of new way. It doesn't seem like they are actually bringing any new content to it; they're just giving a new form to the content they've already got."
The Talmud is an essentially social document -- one that evolved in dialogue and is often studied in pairs known as chevrutah. Its entire layout on a page (pdf) evolved as a model for how commentary can be better integrated with a text. But the sad irony is that the app, which could have used modern technology to offer the most social of Talmuds, ends the Talmud's social evolution at an earlier date, instead of pushing it forward to the app's users.
Such an approach stands in contrast with efforts such as Aharon Varady's Open Siddur Project, part of a movement to create more open-source texts for Jews worldwide. "Where I might expect an eagerness to provide channels for the public to adopt, adapt, remix, and redistribute their ideas, [publishing houses] see themselves as responsible stewards of their intellectual property," Varady explained to Alan Jacobs in The Atlantic earlier this year. "Are religious communities synonymous with a passive marketplace of consumers whose experience of religion is divorced and alienated from their essential creative spirit, or are they creatively engaged participants in a visionary movement? It really comes down to how one sees religion itself: is it a collaborative project or is it some sort of passive observed performance art?"
But building that collaborative ecosystem is, as serial Jewish social entrepreneur Daniel Sieradski explained to me via email, challenging. Speaking of Lockspeiser and his Sefaria project, Sieradski said, "His problem though, like all Jewish app developers, is that there are no free, open-source, and, most importantly, high-quality versions of these texts, particularly in translation, and particularly that are pre-XML encoded. That means that to develop any free, open-source alternative that can compete with ArtScroll's Schottenstein [app], an inordinate amount of work must go into just getting the texts together, let alone building the functionality to unlock their full potential on a tablet device."
Moreover, beyond what is exactly possible technologically with the ArtScroll app, there is the issue of ArtScroll's translations themselves, which will be the lens through which many Talmud-app-studying Jews access the Talmud. ArtScroll, particularly in its siddurim (prayer books), is known for presenting a very clear, unambiguous interpretation of Jewish law and practice. (As an essay on the release of an ArtScroll siddur for women noted, one old joke goes, "Why did the chicken cross the road? Because ArtScroll told it to." The essay goes on to note that ArtScroll's "clear explanations of practice are heavily biased toward certain viewpoints, and reductionist to the max" and that in doing so, those viewpoints come to be seen as "correct," while a range of interpretations is often possible, particularly concerning the role of women in Jewish ritual.) Many Talmud-readers have similar concerns about ArtScroll's presentation of Talmud, and this goes hand-in-hand with the ArtScroll app's unsocial, uninteractive presentation. As Shai Secunda at The Talmud Blog has written, "Yet, with all the bells and whistles the new app looks like it will continue to perpetuate the sense one has while reading from a Schottenstein Talmud; that this is a fully coherent canon, even if every generation adds new insights channeled through a group of bearded men with positions of rabbinic authority, whose thoughts are collected in footnotes at the bottom of the page."
So much more could be possible on an iPad -- say, for example, that Talmud students could follow their favorite contemporary scholars' commentaries and teachings, in addition to those of the Babylonian Era -- but we aren't there yet, and getting there isn't going to come from ArtScroll, which tends toward a more prescriptive bent on Jewish theology and scholarship. Instead, over time, it will come from projects like Varady's and Lockspeiser's, but a lot of work lies ahead. And even if those options do develop as their progenitors hope, the functionality and depth of ArtScroll's app all but ensure that it will become the go-to app for many students of Talmud -- a growing circle (in part thanks to the increased accessibility brought by apps) that surely includes many people without the knowledge necessary to be critical of the translations ArtScroll offers. And so ArtScroll it will be, at least for the near future, with all the good and bad that that entails.