Curiosity Rover's Home on Mars: A Powers-of-Ten Visual Explainer
A visual explanation of where our robotic explorer is sitting on the red planet.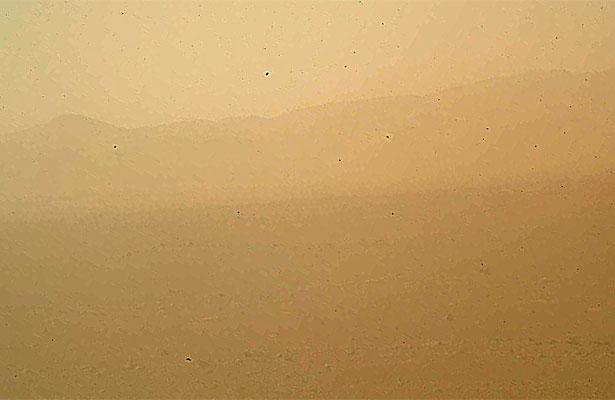 We look at this photo with awe. Even taking images through a dust cover and at lower than maximum resolution, the Curiosity Rover's first color evidence of its position on the red planet is exciting.
So is this higher resolution photograph from the Rover's "MastCam."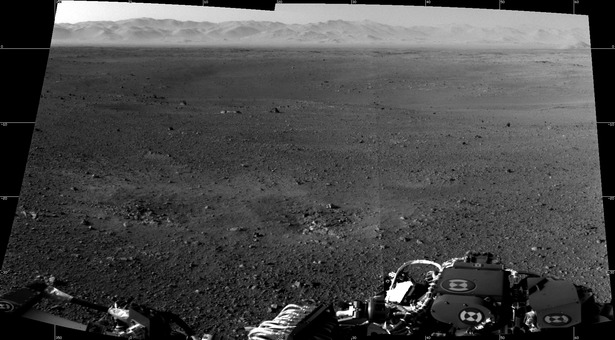 But after staring at tes view for a couple of reverential minutes, I started to realize that I had nagging questions. Where was the context? What was I looking at? And most fundamentally, where on Mars was our rover actually sitting, aside from somewhere near "The Gale Crater." This is a visual explainer that I put together for myself and you.
First, let's get clear on where the Mars Rover is. NASA pinpointed its location today and was even able to see the various debris from the entry scattered within a few thousand feet of its current location.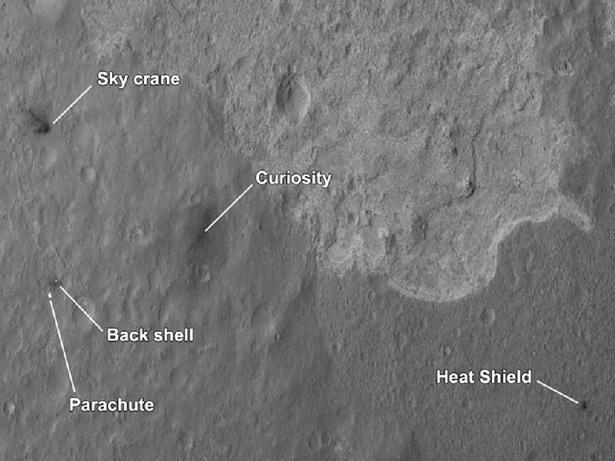 The area you're seeing here on Mars is actually very small. It doesn't give us context for where the Rover is. Let's zoom out a bit.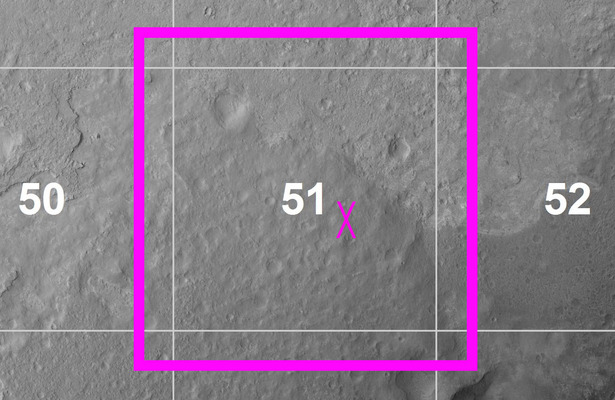 The map above was created for the mission. It divvied up the prospective landing area into roughly 0.9 mile by 0.9 mile boxes. (Technically, we're talking about a sphere, so they were 0.025 degrees in latitude by 0.025 degrees in longitude.) The lander was expected to touchdown in box 50; it hit in 51. Let's zoom out again, so you can see the whole landing area (remember: click to enbiggen).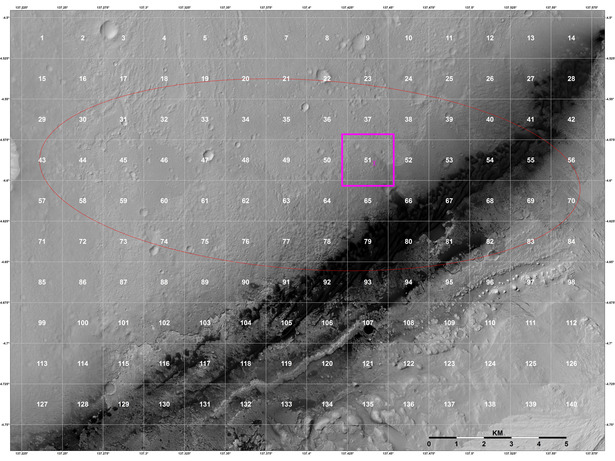 All right, we're almost to the level of context we need to understand the first color photo. Just two more hops til you can really get it. I'm going to do them back to back.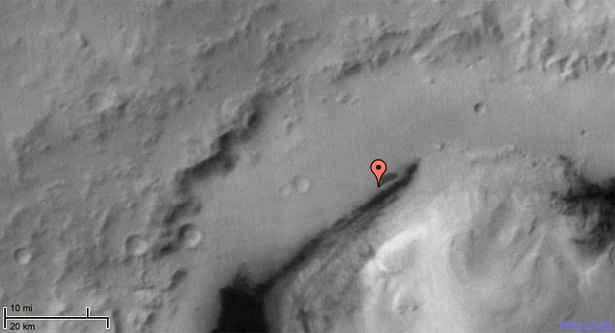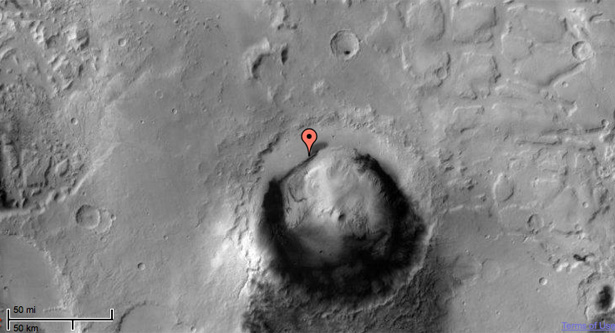 All right! Now we've got what we need. The rover is sitting inside a crater, which dips down a couple of miles from the surrounding Martian topology, but it's backed right up against Mt. Sharp, the mountain to its southeast. What we're really seeing in that first photograph, which was shot looking north, is the rim of the crater, which would head back out to "sea level," or an elevation of close to zero. The elevation map makes it even more clear: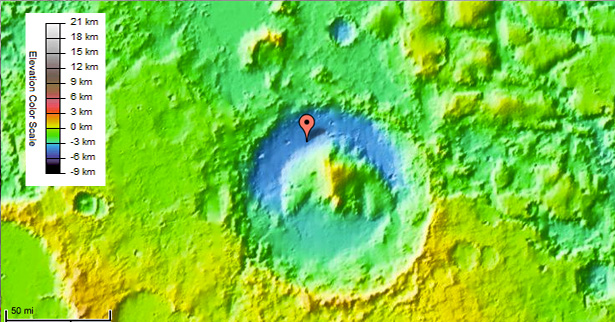 Our elevation map helps explain other photographs from the rover site, too. Like this one of a mountain that appears to be pretty close to the rover. Why, the elevation map happens to show a mountain to the southeast of the rover. That's Mt. Sharp and we can know roughly what direction the camera was aimed.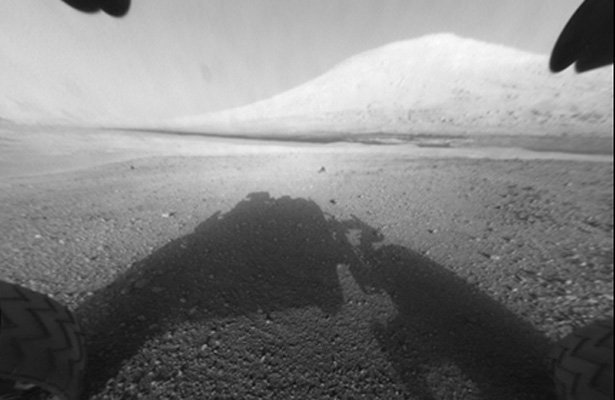 Now that we've got you oriented, let's zoom out a little bit from the Gale Crater, so you can see the wider context.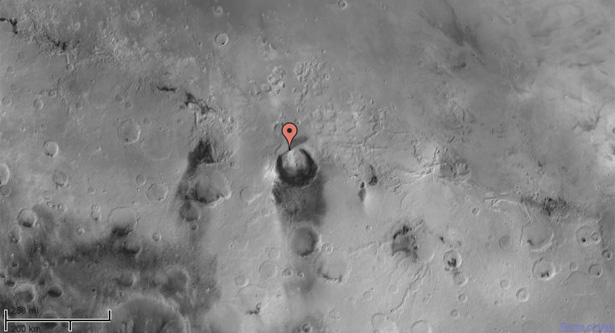 And again.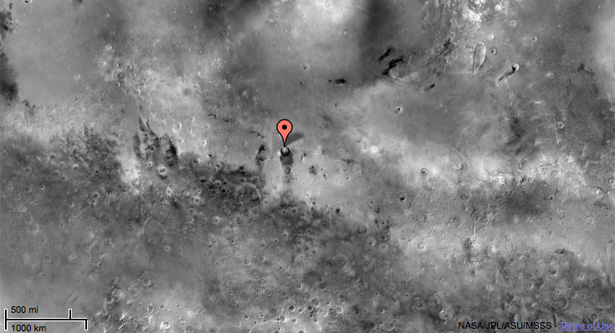 Last one. Our rover now just a speck on our neighboring planet's surface.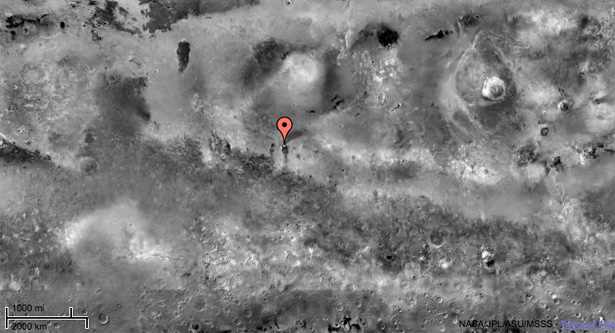 This is a map of a roughly equivalent area of the Earth on the same scale.