Beneath Every City Is A Labyrinth of Last Names
Behind a city of data, clumps of families and origins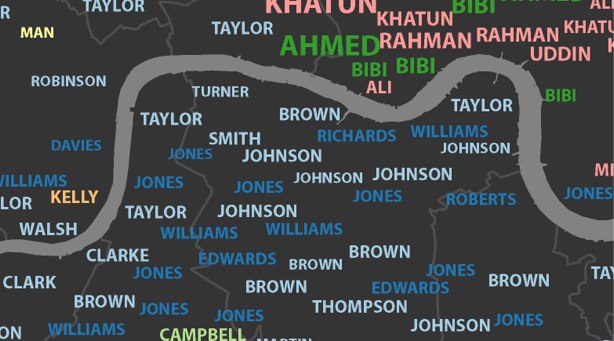 James Cheshire
This is what families look like in the age of big data. The cartographer James Cheshire has looked at over 900 different areas of London and graphed the most popular last names of each. He's then placed those over a map of the city, made it all zoomable and interactive, and highlighted which 15 last names -- and nationalities -- dominate each area.
It's an awesome window into how people actually inhabit the city. Spend some time with it and seemingly homogenous areas break apart. An ocean of Smiths, an English name, suddenly is revealed to be riven with currents of the Welsh Williams. Hiding among the clumped, Indian Patels are Pakistani Khans. And an area that seems to be all Smith and Shah will reveal a camouflaged Chabalambous.
In a blog post explaining his map, Cheshire adds two thoughts, which he says "may appear a little contradictory":
The first is that a surprising number of Londoners share the same name (especially with their immediate neighbours). The second is that despite the dominance of relatively few surnames at the top of the rankings, the further down the rankings you get the more you see of London's population diversity. We are of course only mapping the top 15 surnames in each area of London- there are many thousands more.
Two years ago, Yale Professor Bill Rankin showed, with another colorful, interactive map, how race and income both do and don't obey Chicago's 80 year-old community areas. City planners at the University of Chicago created the areas (which the average Chicagoan encounters as named neighborhoods) back in the 1920s, and they have remained static since then. But, as Rankin's maps reveal, the exchange of money and bodies, and the feral collaboration between racist real estate agents and corrupt and corpulent municipal officials, has shaped the city to a much thornier complexity.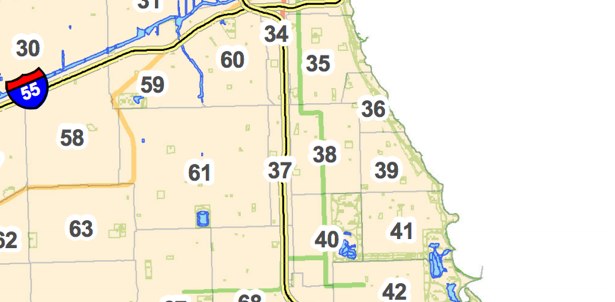 What both these maps reveal are the cities' long tails of names and origins, and of how, when you get down to it, something totally banal -- zoning and electoral data -- describes the flow of bodies, families and migrations. Each of those names isn't one family but a whole set of them, going to school, going to work, buying food and washing clothes. Or it's a single man sending money back home. Or it's an older woman living in a neighborhood whose old identity she remembers. Each name is a loyalty, which may be visible or invisible to the surrounding city-dwellers. And each name is a reflection of the work it takes, much harder for some than others, to make and keep a home.