Banner Above Paul Ryan-Led Event: 'Hey Girl, Choose Me, Lose Choice—P. Ryan'
Today, in Lakewood, Colorado, someone strapped a banner with the phrase "Hey girl, choose me, lose choice -- P. Ryan" to their plane and flew it over a real Romney 2012 event, led by none other than the flesh-and-blood Paul Ryan: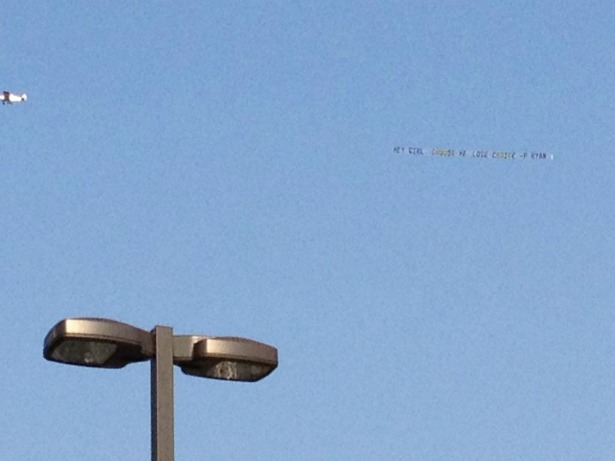 @EamonJavers
Consider for a moment the cultural relay that had to be completed, the number of flip-flops danced and advice animals traded, for a @PaulRyanGosling-inspired phrase (itself inspired by Feminist Ryan Gosling (see below)) to be strapped to a plane and flown over Paul Ryan himself.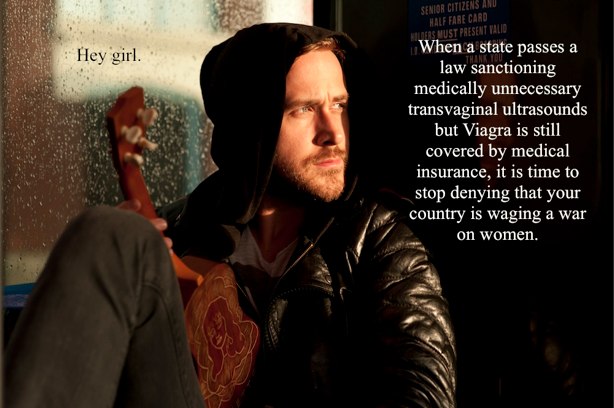 FeministRyanGosling
This is the republic in the age of the Internet, an ersatz exchange between different types of power: political power (Paul Ryan himself); creative (University of Wisconsin grad student Danielle Henderson, who first matched an image of Ryan Gosling to the algorithm "Hey girl, [pro-feminist comment]"); what we might call creatively distributional power (the thousands who made all sorts of other Ryan Gosling jokes); and the physically distributional (the pilot today who strapped the banner to his or her plane and took off into the air, to fly above Paul Ryan himself).
Post-script: The best part here? The photographer of the picture above, CNBC reporter Eamon Javers, didn't immediately get the joke:
Am reliably informed by Twitter follower this parody acc't explains "hey, girl" banner we saw flying over the Ryan event: @paulryangossling

-- Eamon Javers (@EamonJavers) August 14, 2012