A Stunning High-Resolution Photo of Curiosity's Heat Shield Plummeting to the Martian Surface
The first high-res image we've seen of the Curiosity rover's descent. Just look at it.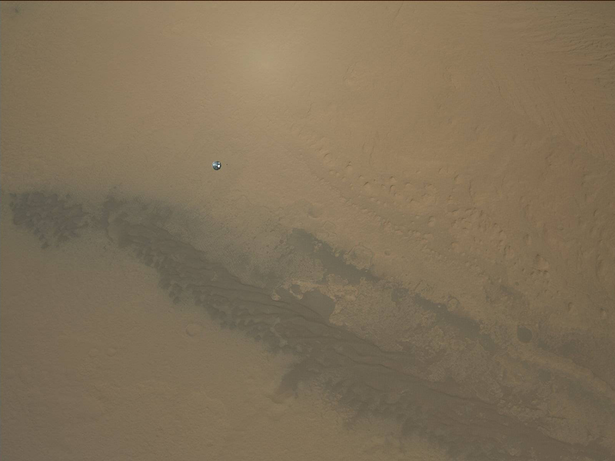 What can you really say about this image from Mars? Nothing.
But I'll try. The best images are when human artifacts are presented against the Martian landscape. What's fascinating is that it's *our* technology that looks alien, not the empty world to which we've sent it.
Here's the image's context: as the Rover descended to Mars, it jettisoned its heat shield, which fell to the Martian surface. As it went, the Rover took images with the Mars Descent Imager, known as MARDI. A few of these photographs have been released by NASA, but the bandwidth to Mars is rather limited, so we hadn't seen a single full-resolution frame from that camera. Until now. Because that's what you're looking at. Click on the photo to enlarge it and just pan around a little.
Emily Lakdawalla of the Planetary Society has a few more details and cleaned up the image above a tiny bit.
Update, 1:56pm: NASA's put out a full-resolution close-up of the heat shield. Behold!